[ad_1]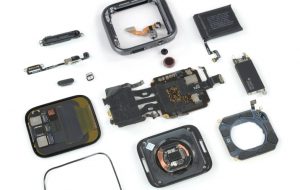 Check out the latest teardown from the repair specialists who seek to encourage the reusability of electronics kit.
They discover a streamlined antenna system, a bigger and thinner display, and a new ECG conductive digital crown.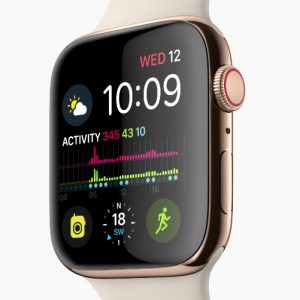 This year's iteration of Apple's smart timepiece, just to remind you, claims to help you measure or manage everything from everyday stress to calories burned, as well as monitoring your heart rate, detecting falls and generating Emergency SOS communications. And telling the time, of course.
Highlights and design-wins
But what of the teardown? Components identified include an LTPO OLED Retina display with Force Touch, a custom-designed Apple 64-bit dual-core S4 SiP, a 1.113 Wh (291.8 mAh at 3.81 V) power pack and the Taptic Engine, also known as an electromagnetic oscillating linear actuator, says iFixit.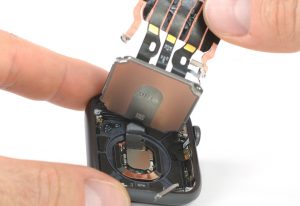 Some highlights identified by the team include the S4 being secured only with screws, "a welcome change from the fiercely-glued SiPs of years past", battery replacements being "pretty straightforward" and watch band replacements being "backward-compatible with previous models".
Lowlights, however, include the use of resin making most board-level repairs impossible and several component flex cables bing mounted directly to the S4 package, "requiring skilled microsoldering to replace".
Read the full teardown for a detailed list of design-wins for the likes of Avago (AFEM-8087), ST Microelectronics (ST33G1M2 32-bit MCU with ARM SecurCore SC300) and a Bosch accelerator.
Apple Watch Repairability score
What is the overall iFixit verdict for the new Apple Watch Series 4? Whereas the Apple MacBook Pro with Touch Bar and Apple HomePod both scored 1, this device scores 6.
Read the full iFixit teardown.
Images: iFixit
See also: Tearing down the new Apple MacBook Pro with Touch Bar
See also: iFixit tears down the Apple iPhone 8
[ad_2]

Source link