[ad_1]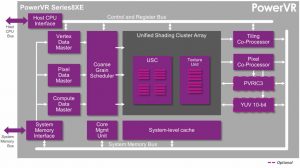 The processors combine computational performance ('flops') with pixel processing performance (pixels/clock).
In general, the flops pre-process image – in rich gaming environments, automotive object detection, augmented reality and virtual reality, for example – then the pixel processor creates polygons for the display.
Built on the recent 8XE series, the new GPUs, dubbed 8XE Plus, have 2x or 4x the computational power (see table).
"We are pushing towards gaming environment where people want to do more processing before pushing pixels to the screen," Graham Deacon v-p of PowerVR business at Imagination Technologies told Electronics Weekly. "The original XE series was for casual gaming – like Angry Birds. Now we have 360° video from FaceBook and Google Cardboard-like applications." – 360° video involves rendering four images inside a virtual box for all-around image viewing.
As a rough guide, 8XE could render casual games at 720p or 1080p, while 8XE Plus can render sophisticated games at 1080p, he said.
The increased processing capability also allows, for example, in-image object identification and fast panorama stitching for photography.
In cars, multiple displays are made possible by 8XE Plus GPUs, said Deacon: simultaneous dashboard, navigation. infotainment and reversing camera, for example.
Rendering games at 1080p means better images from digital TVs and set-top boxes. According to Deacon, games tend to be rendered at a lower resolution – 720p on the 8XE series – then up-scaled to HD or 4K by a later stage of the processing pipeline. 1080p rendering increases available image resolution for displays of HD or above.
All 8XE Plus GPUs render at 4pixel/clock and the standard 8XE series offers 4pixel/clock and 2pixel/clock options, to which Imagination has just added 8XEs at 1pixel/clock and 8pixel/clock.
The latter is the most powerful of all XE GPUs – moving up into high-end phone territory, said the firm. Going any faster required a shift up to Imagination's  7XT series. "These are more scalable and focussed on performance/W rather than performance/mm like XE GPUs," said Deacon – look out for the announcement of an 8XT series in 2017.
A 10bit YUV option on certain 8XE GPUs is now going to be offered for high-dynamic range TV (see table), and there is multi-domain hardware virtualisation for anti-hacking security.
Software support for 8XE Plus GPUs comes through graphics, compute and vision APIs including OpenVX 1.1 and OpenCL 1.2. "In mid-range markets, this support is critical since such devices don't typically incorporate dedicated hardware for vision and compute," said Imagination. OpenGL ES 3.2 and Vulkan 1.0 are also covered.
Physical design optimisation kits (DOKs) will also be available, and developers get free access to the cross-platform PowerVR SDK to support 3D graphics application development.
"Series8XE and Series8XE Plus GPUs have already been licensed by multiple customers for TVs, set-top boxes, mid-range mobile devices and automotive applications," said Imagination.
Table temporarily removed at the request of Imagination Technologies
[ad_2]

Source link