[ad_1]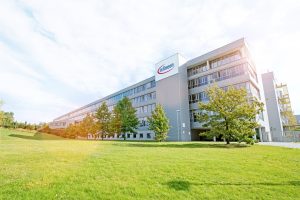 The Development Center is expected to employ a total of around 250 people in the medium term.
One focus of it will be to develop products for automotive applications, power electronics and AI.
It is scheduled to be launched in the course of the 2018 calendar year.
In Dresden, the Infineon Group already has one of its largest locations for developing wafer technologies and manufacturing processes, as well as a  production plant.
2,200 employees carry out research into and develop technologies for microcontrollers, sensors and power semiconductors and make chips there – including for the automotive industry which accounts for 42% of Infineon's revenues.
System integration is gaining in importance to enable complex interaction between semiconductors in more and more technically sophisticated cars. Modeling complex systems and developing highly integrated products will be one of the new Development Center's core tasks in addition to chip design.
"Algorithms, artificial intelligence and the Internet of Things play a key part in the increasing networking of traffic systems," says Infineon CEO Reinhard Ploss, "the new Development Center will also address those issues intensively."
[ad_2]

Source link