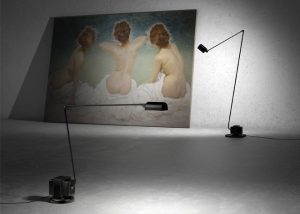 This year it has been updated to use leds to form the 'Daphine Tri-R', using Toshiba's Tri-R high-colour-rendering leds which have a violet die and phosphors at multiple wavelengths – scoring >Ra97 for CRI and Qa96 for CQS.
The lamp consumes 10.4W and produces 828 lm at a warm 3,048K. It comes in black, white or bronze panted finish, or nickel plated.
It produces 2,080 lux 300mm from the head or 852 lux at 600mm.
"We are very proud of being given the opportunity to assume a part of the evolution of this timeless masterpiece," said executive fellow of Toshiba Materials and Tri-R project founder Kumpei Kobayashi.
Tri-R is the technology behind Seoul Semi's SunLike range.