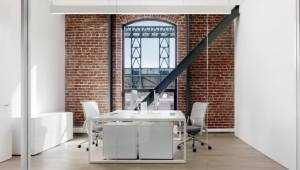 It could explain why Europe doesn't produce world-beating start-ups on the same scale as the USA.
"We believe that a fresh approach to employee ownership is key to creating European tech giants on the scale of Google or Amazon," says Index.
Whereas US start-ups on average allocate 20% of their shares to employees, in Europe it is inly 10%.
For over 50 years the Californian semiconductor industry has believed in giving stock options to all employees regardless of the importance of their role.
In European stat-ups the options grants are mainly given to the top executives, says Index, rather than to the ordinary workers. In Europe two thirds of the options typically go to the top execs and only one third to ordinary employees, whereas in the USA only a third goes to the top execs with two thirds going to the rank and file.
"Europe is on the cusp of greatness, but risks coming short of building companies the size of Amazon, Facebook and Google if it cannot compete for the talent it needs," said Index founding partner Neil Rimer.
The difference between the US and Europe is encouraging the brightest and the best to work for US companies rather than European companies or actually discouraging people from joining start-ups.
Another discouragement to motivating Europeans via stock options is the tax treatment on the exercise of options in European countries, says Index.
"One of the things holding Europe back, from really building the companies the size of Amazon is attracting and retaining the right talent," says Index partner Martin Mignot, "and one of the most important criteria for doing that is employee ownership."
"Access to talent is the single most important ingredient for creating transformative tech companies," ads Mignot, "which is why we are calling on European governments to help level the playing field for our ambitious entrepreneurs by creating the right conditions to support and incentivise employee ownership. Attracting the best talent is the biggest focus for all entrepreneurs and should be the singular focus of all governments who seek to support innovation, entrepreneurialism and job growth."
At a time when European governments are all trying to encourage technology entrepreneurship, the Index report could be a key to unlocking the potential of Europe's start-ups.