[ad_1]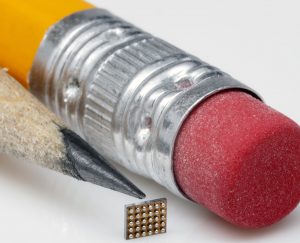 The new devices, dubbed UltraPlus, have more memory (1.1 Mbit RAM), twice the digital signal processors (8x DSPs), and improved I/Os over previous generations.
Typically they are used for application specific processing offload in battery-powered systems. These applications include: voice recognition, gesture recognition, image recognition, haptic and graphics acceleration.
According to Lattice: "More DSPs offer the ability to compute higher- quality algorithms, while increased memory allows data to be buffered for longer low-power states. The flexible I/Os enable a more distributed heterogeneous processing architecture."
Product features include:
1.1 Mbit SRAM, 8 DSP blocks, up to 5K LUTs and non-volatile configuration
MIPI-I3C support for low-resolution, always-on camera applications
Sub 100uW standby power consumption
Package size as small as 2.15 x 2.55mm
"The iCE40 UltraPlus FPGAs expand its market reach to system designers who require FPGA functionality with improved DSP compute power, more I/Os and increased memory for buffering," said C.H. Chee, senior director of marketing, mobile & consumer division at Lattice Semiconductor.
The iCE40 UltraPlus product evaluation samples and boards are available immediately. More details can be found at www.latticesemi.com/iCE40UltraFamily.
Read more Lattice Semiconductor stories on Electronics Weekly »
[ad_2]

Source link