[ad_1]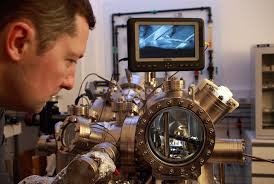 The French research centre uses a proprietary self-aligned process the fabricate the blue or green GaN/InGaN µLED arrays at a 10-micron pitch and 873 x 500 resolution.
Other techniques are used to provide good thermal dissipation and prevent voltage drops within the micro-LED matrix.
Ludovic Dupré, an author of the paper: "Processing and Characterization of High-Resolution GaN/InGaN LED Arrays at 10-Micron Pitch for Micro-Display Applications", writes:
"The use of the damascene metallization process of the cathode, which also is a new process developed at Leti, is a breakthrough compared to previous demonstrations of micro-LED matrices. The common cathode indeed fills the whole volume between the micro-LEDs and provides metallic spreading of electrical current between them, as well as thermal dissipation."
The first prototypes are currently being tested.
The results were presented Feb. 2 at SPIE Photonics West in San Francisco.
[ad_2]

Source link