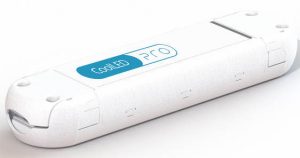 The new programmable drivers are initially available in three variants: 15, 25 and 40W, delivering programmable constant current output, along with DALI dimming.
They all support push-dim and 'corridor' function and the offer string voltages, (15W example) of 2.5-38V, or 5-52V, depending on variant.
"The new CoolLED Pro range provides complete freedom to control the output power of an LED driver in any configuration, with drive current programming in 1mA step increments and smooth dimming down to 1% as standard, with options down to 0.1% and dim to off," said the firm. "Drivers can be pre-programmed in the factory or at the customer location via a programming software interface, to meet any current output configuration."
Power consumption is 0.5W when commanded to zero output in 15W versions (pictured).
And, hats off to Harvard, 100/120Hz flicker is specified – take note other led product makers – at a most acceptable <1%.
Further CoolLED Pro developments, planned in early 2018, include analogue variants.
As part of the CoolLED re-launch, the firm has refined its service offering for OEMs, offering its most popular dimmable and non-dimmable CoolLED products from UK stock, normally be despatched within 24 hours. From order placement, programmable drivers will be picked, programmed, packed and despatched within 72 hours.
"Our ambition to improve our CoolLED range is also reflected in our renewed service offering. We provide our OEM customers with a market leading service that allows them not only to place minimum order quantities of our most popular drivers, but also have them despatched within 24 hours of the order being received, a turnaround time that far exceeds the industry average. As a business, we don't plan to stop there, as we are working hard to reduce these timescales even further in the near future," said OEM sales head Tim McKernan.
All Harvard 'LED Solutions' are designed, developed, manufactured and stocked in the UK and come with a five-year warranty.
Seethe firm at Lux Live on stand G36 at the ExCeL London on November 15-16.