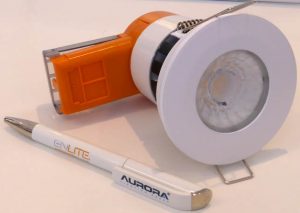 It is the 6W E6pro, which will be available in the new year, producing 620lm at 4,000K (103 lm/W) and 580 lm at 3,000K.
It is dimmable and beam angle is 60deg.
The E6pro bezel is IP65 (and twists on) so this can be used in the bathroom as well as the kitchen and other rooms.
The bezel is shallow and the lens fairly near the surface so it remains to be seen if glare is an issue with low ceilings – these things are so hard to check on a show stand. The firm's non-fire-rated commercial CurveE downlighter has a beautiful deep low-glare bezel.
E6pro is a slick design and very installer-friendly – the power supply integrated above the heatsink and there is a separate connector that can be first-fixed, and then forms part of the physical shield (orange extension in the photo) that keeps insulation at bay when clicked into place and the downlighter installed. Total depth is 100mm.
Flicker is no/low – "not 100%-free, but close", I was told on the stand, so Aurora is another company going the extra mile to protect sensitive customers.
Adjustable colour temperature
Amongst its many other downlighters – Aurora runs the Enlite brand – E8CX is another interesting one, a dimmable downlighter with a switch on the back to set it to 3,000K, 4,000K or 6,500K colour temperature during installation.
Smart lighting
Under the Aone brand, Aurora is allowing home owners to dip their toes into smart lighting with a Gooee-based starter kit consisting of a phone app, a neat-looking hand-held ZigBee remote control, a bridge box that interfaces with ZigBee and an Ethrnet line to your home Wi-Fi router, one 120W in-line ZigBee dimmer and six of its high-end mPro downlighters (there is a retro-fit version without the downlighters). The mPro downlighter power supply can be un-clipped from the back of the LED housing, reducing depth to fit in 47mm ceiling voids.