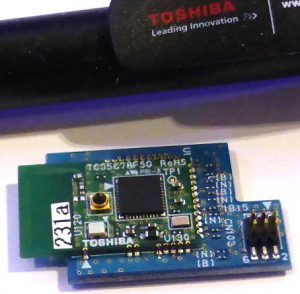 Bluetooth Mesh does not involve setting up a connection between two devices, but uses a modified version of the Bluetooth 'advertising' profile.
It will run on Bluetooth 4.2 hardware but, Toshiba's marketing engineer Heiner Tendyck told Electronics Weekly at LuxLive, gets more range or speed because of the coded phy associated with Bluetooth 5 hardware which improves bit error rate.
He didn't have exactly comparable figures to his fingertips, but said Bluetooth 4 at +7dB can reach 220m line-of-sight (130m at 0dB) while Bluetooth 5 at +8dB can reach 800m.
The firm's Bluetooth 5 chip, which I think is the TC35680, is due out next year.
He also claimed that the chip will offer lowest power advertising mode in the market, peaking at 3.3mA. "For a beacon advertising every 1.28s, that's 5.5uA – almost five years on a coin cell."
Panasonic has picked up on a Toshiba Bluetooth chip to offer the PAN1760 module for Bluetooth Mesh.
"It saves laying out critical pcb tracking and includes an antenna, certification and Bluetooth software," said Tendyck. "You only need to add application software."