[ad_1]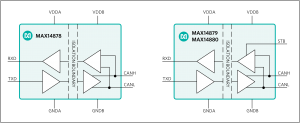 Maxim's range comprises the MAX14878, MAX14879, and MAX14880 2.75kV and 5kV family.
Nowadays, CAN is widely deployed in various industrial applications. Operators face several challenges, as they require integrated isolation and a robust interface to withstand noisy environments.
In addition, they risk communication failures through faults/shorts on the transceiver inputs, system robustness against electrostatic discharge (ESD) strikes, and large ground shifts in industrial environments.
The  transceiver family  integrates up to 5kV integrated galvanic isolation with fault protection and ±15kV Human Body Model (HBM) ESD to increase uptime in harsh and noisy environments.
They operate up to the maximum high-speed CAN data rate of 1Mbps and feature ±54V fault protection on receiver inputs.
Available in industry-compatible pin-outs, the transceivers are packaged in a wide-body 16-pin SOIC package with 8mm of creepage and clearance and operate over the -40-degree Celsius to +125-degree Celsius temperature range.
[ad_2]

Source link