[ad_1]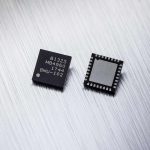 The chip-set has the ability to integrate sensing directly into the drive electronics, thereby simplifying and shortening the design task for engineers designing low cost, high performance automotive solutions.
The MLX81325 is an integrated smart motor pre-driver with Local Interconnect Network (LIN) capability and a protocol controller, housed in a tiny QFN32 32-pin 5mm x 5mm package which enables fine PowerFET control for efficient, low noise brushed motor drive with smooth start and stop.
The integrated solution contains four FET PWM pre-drivers, 32k Flash memory and 16k ROM. There are various diagnostic functions built in and current sense enables intelligent anti-pinch protection.
A total of eight I/O lines allow direct connection of Melexis position sensors, simplifying the system design – especially the provision of self-learning soft-stop features.
The companion mixed signal CMOS-based MLX92255 is a second-generation dual Hall-effect latch with two speed outputs and an onboard voltage regulator.
Each Hall sensor offers advanced offset cancellation and two open drain output drivers and the whole device is packaged in a small 5-pin TSOT package measuring 2.75mm x 2.90mm.
[ad_2]

Source link