[ad_1]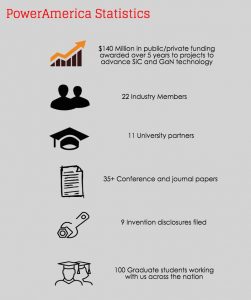 The firm's role at the organisation will be supporting the commercialisation of 1.7 and 3.3kV SiC mosfets and SiC Schottky diodes.
"With key benefits to include higher efficiency, high temperature stability, high voltage operation, better power handling and smaller form factors, the devices will expand the number of applications where SiC technology can be used," said Microsemi. "Ideal for the industrial and aerospace markets, as well as the defence market where US-based suppliers are necessary, target applications for the devices include automotive electrification, railway traction, aerospace actuation, power generation, power distribution, solar inverters, motor drive and electromagnetic rail-guns."
Key features of Microsemi's proposed 1.7kV SiC devices:
Reliable at 175°C
AEC-Q101 qualified
Specific Rds(on) <7 mΩ.cm2
Avalanche rating (UIS) of >15J/cm2
Short circuit withstand time (SCWT) of ~5us
PowerAmerica members include: WolfSpeed, Transphorm, ABB, XFab, Toshiba, Infineon, as well as other firms, universties and US Government departments.
[ad_2]

Source link