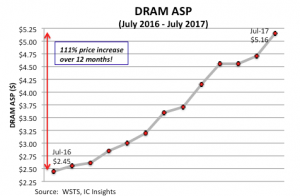 The price will stay high next year as manufacturers put greater focus on server DRAM nect year at the expense of mobile DRAM.
Manufacturers are not expected to increase capacity and will rely solely on new nodes and better process flows to increase output.
Even the traditionally weak Q1 demand is unlikely to depress prices, reckons DRAMeXchange.
The generational transition from LPDDR3 to LPDDR4 is gaining momentum.