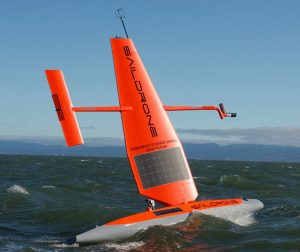 What topics have your peers been reading? EUV for mainstream chip-making at 7nm, sailing drones, a curious twist in the Micron-UMC lawsuit and four ways LED lighting could make cities smarter…
As always, for maximum suspense, let's take them it in reverse order:
5. Sailing drone measures oceans autonomously for 12 months
Saildrone is a Californian company which designs and manufactures wind and solar powered autonomous surface vehicles, called Saildrones, designed to monitor the ocean for months on end. The hard wind design emerged from a decade-long pursuit of the land speed record – company founder Richard Jenkins ultimately achieved 126.2mph in 2009, having started his Windjet Project in 1999 while studying mechanical engineering at Imperial College.
4. Curious twist in Micron-UMC IP lawsuit
A curious twist in the Micron-UMC lawsuit about the theft of DRAM IP, is that UMC says the China court hearing the case has issued an injunction banning Micron from selling certain products in China but Micron says it has received no such injunction. "Micron has not been served with the preliminary injunction referred to in the statements issued by United Microelectronics Corp (UMC) and Fujian Jinhua Integrated Circuit Co. (Jinhua) dated July 3," says Micron.
3. Four ways LED lighting make cities smarter
Smart cities demand smarter systems integration. If we are to build a variety of community and citizen services upon an internet of things (IoT) infrastructure deployed initially for outdoor lighting control, the network will require a level of reliability beyond historical control system functionality that cause lights to go on, off and dim.
2. Here Comes Vietnam [Mannerisms]
China's 70% market share of the smartphone market could be under threat from an unexpected direction – Vietnam. Samsung seems to have seeded this effort by using Vietnamese sub-contractors for the last nine years. Armed with a knowledge of how to do the trick, two of Samsung's suppliers are moving on the market with their own brands.
1. VLSI Symposia: Samsung eyes EUV for mainstream chip-making at 7nm
It is said to be the first mainstream semiconductor manufacturing technology to use extreme ultraviolet (EUV) lithography for single-patterning of middle- and back-end-of-the line features – EUV is expected to offer better pattern uniformity and cost advantages versus standard multiple-patterning approaches for extreme scaling. Samsung used EUV, along with additional front-end scaling, special design constructs and a single diffusion break, to build transistors with a fin pitch and contacted polysilicon pitch (CPP) of 27nm and 54nm, respectively.
Let the latest news, products and blogs – come to you, instantly. Get the Electronics Weekly RSS feeds, delivering new articles as they are posted, whether to your browser or favourite Feed Reader.