[ad_1]

What topics have your peers been reading? There are the issues of huge semiconductor business deals, a new design for FETs suitable for nanodevices, an organic solar cell efficiency record, Mouser distributing Micron and bad financial results for ARM…
As always, for maximum suspense, let's take them it in reverse order: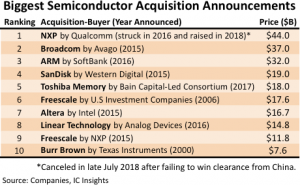 5. $40bn+ Semi M&A Becoming Less Likely
Semiconductor takeovers valued at $40 billion or more are becoming less likely because of the high-dollar value of major acquisitions, increasing scrutiny from regulators, rising protectionism among more countries, and growing global trade frictions, says IC Insights. The demise of Qualcomm's pending $44 billion purchase of NXP Semiconductors, for example…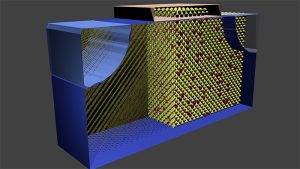 4. Purdue re-designs FETs
Purdue University researchers have created a design for FETs which makes them promising candidates for next generation nanodevices. The re-engineered Purdue FET can offer better switching behaviour for computers and devices than traditional FETs, says the university.
3. 17.3% is organic solar cell efficiency record
Chinese researchers are claiming an organic solar cell record – 17.3% efficiency under standard sunlight conditions from a solution-processes structure – as opposed to more-complex vacuum processing. The cell is a tandem device, where wavelength coverage is increased by using two different junctions. In this case the materials were tuned so that the junctions complement one another
2. Mouser signs Micron
Mouser has signed a global distribution agreement with Micron. "By adding Micron to the Mouser line card, we are providing the design engineering community with proven solutions,"says Mouser's Jeff Newell.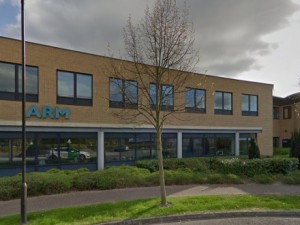 1. Arm failing
Arm's Q2 EBIT fell 99% y-o-y from £82 million in Q2 2017 to £1 million in Q2 2018. Revenue was down from £329 million in Q2 2017 and from £330 million in Q1 2018 to £281 million in Q2 2018. Licensing revenue fell 43% y-o-y from £111 million to £64 million. Royalty revenues and software/services revenues remained broadly flat.
Let the latest news, products and blogs – come to you, instantly. Get the Electronics Weekly RSS feeds, delivering new articles as they are posted, whether to your browser or favourite Feed Reader.
[ad_2]

Source link