[ad_1]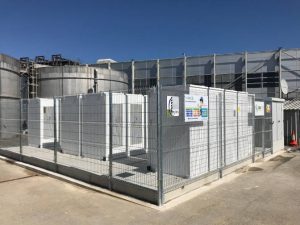 What topics have your peers been reading? There are Plessey power additions to its Plymouth fab, executive changes at TI, Intel buying a structured ASIC specialist, a Mannerisms post on Pasquale Pistorio, and a possible research breakthrough in Li-ion batteries by Norwegian researchers…
As always, for maximum suspense, let's take them it in reverse order:
5. 2MW battery makes and saves money at UK fab
LED-maker Plessey has added a 2MW 'behind the meter' (BTM) battery to its Plymouth fab. The battery power will earn revenue through a frequency response balancing contract with National Grid and help Plessey reduce its energy costs through peak-shaving of power supply in response to fluctuations in demand.
4. TI sacks new CEO after six weeks in the job
TI has sacked its new CEO Brian Crutcher who was appointed on June 1st. It means Crutcher's predecessor as CEO, Rich Templeton, is moving back into the CEO slot. Templeton took over as Chairman when Crutcher became CEO.
3. Intel buys eASIC
Intel is to buy eASIC, the 19 year-old Santa Clara structured ASIC specialist. Intel already had a structured ASIC capability with its HardCopy product line acquired with its purchase of Altera. Intel didn't say why it wants eASIC. It does, however, remove a competitor. 120 eASIC people will move over to the Intel programmable solutions group.
2. The CEO Who Went Home [Mannerisms]
In 1980 Pasquale Pistorio, the first non-American to be elected to the board of Motorola, went back to Italy to a difficult life – both at work and at home. "Personal life was tough because the environment was very difficult," he recalled, "the unions were dominating the scene – it was very difficult or impossible to fire people if you wanted to re-structure. Terrorism was killing one executive a week. My salary was much lower – my family discovered that life in Milan was more expensive than Phoenix, and my salary was half. This put a strain on family life from a financial point of view. So we had some difficulties coming back home. I think this hardened my determination to succeed."
1. Has Norway discovered the X factor for silicon-Li-ion cells?
Norwegian researchers have discovered a way to stabilise silicon anodes for Li-ion batteries, according to the country's Department of Energy Technology. Silicon anodes have the potential to far-exceed the lithium ion storage capacity of carbon anodes, if only they didn't change size so much as they absorb the ions – as this physical swelling and shrinking quickly wrecks the structure of any Si-Li-ion battery.
Let the latest news, products and blogs – come to you, instantly. Get the Electronics Weekly RSS feeds, delivering new articles as they are posted, whether to your browser or favourite Feed Reader.
[ad_2]

Source link