[ad_1]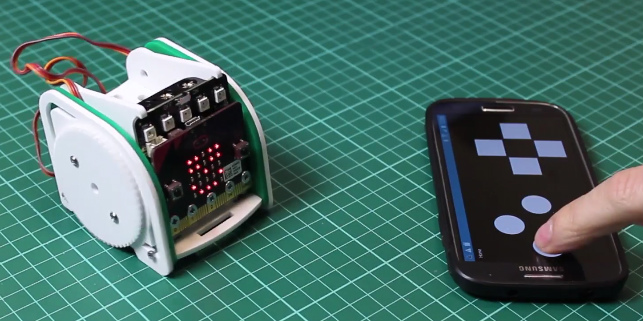 Aimed at students of STEM subjects in secondary schools, it serves an introduction to robotics and is the latest micro:bit powered project from Nottingham-based Kitronik.
The buggy is controlled via Bluetooth using an app, allowing it to be controlled via a smartphone or tablet. Or a second micro:bit
You can personalise the buggy by adding lights and also add a pen to the device to enable it to become a drawing tool.
To see the buggy in action, check out the video below:
The Kitronik team writes:
Powered by two continuous rotation servo motors, the speed of the buggy can be controlled easily using Microsoft PXT Block Editor. The speed of these servos can be managed by simply altering the PWM (Pulse Width Modulation) signal to the servo, which is easy to do using the Servo blocks in the Microsoft PXT Block editor. Kitronik have produced custom blocks for the Servo:Lite (pictured right) to make the task of coding as quick and painless as possible.

Additional extras can be added, such as a pen, which will increase the range of tasks for which the buggy can be used. Indicators and reverse lights can also be added using the 5 x RGB individually addressable ZIP LEDs (NeoPixel compatible).
For its educational purpose, the :MOVE Mini Buggy kit is accompanied by support resources including a range of tutorials.
These show, says Kitronik, not only how to build and control the buggy but also how the Kitronik :MOVE servo:lite board can also be used in conjunction with a micro:bit to build other movement based projects.
MOVE Mini Buggy resources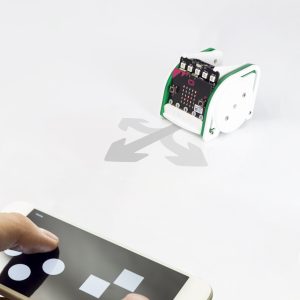 Guides include:
How to control a third servo
How to code the buggy to draw shapes
How to write code for the on-board ZIP LEDs
How to code the Bluetooth control
How to use a second micro:bit as a controller
Why produce the :Move Mini Buggy?
"We wanted to create a fun vehicle that young people could build themselves, and in doing so learn how to code and create," said Kitronik co-founder Kevin Spurr.

"It is important that the enthusiasm for electronics, making and digital creativity sparked by the launch of the micro:bit is not lost and we hope that by developing projects such as these, children will continue to be fascinated by the potential of electronics and gain important skills and knowledge in a fun context."
Note that the :MOVE Mini Buggy has been developed to coincide with the launch of the micro:bit in America later this month.
Along with companies including ARM, Samsung, Microsoft and Barclays, Kitronik has been involved in the development of the micro:bit project since the project began. It is now one of only two global wholesalers of the device for the Micro:bit Educational Foundation.
A representation of some Bluetooth coding is pictured below.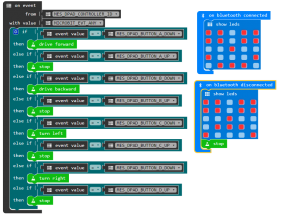 [ad_2]

Source link