[ad_1]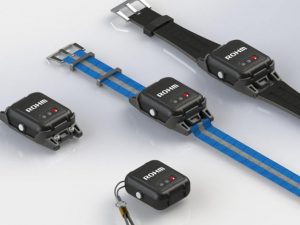 On-board are:
3-axis accelerometer
Combination 3-axis accelerometer + 3-axis magnetometer
Combination 3-axis accelerometer + 3-axis gyroscope
3-axis magnetometer
Barometer
And the following can be added:
Optical heart rate sensor
Ambient light sensor
RGB colour sensor
Magnetic hall effect sensor
The node is the result of collaboration between Rohm and Kionix, and its sensor mix "makes it an excellent choice for prototyping and developing consumer IoT applications ranging from wearables, health, wellness, games, toys and smart home devices; to industrial IoT applications such as smart city sensor networks, asset management and logistics monitoring and factory automation."
The radio is provided by Nordic Semiconductor's nRF52840 Bluetooth 5 + Low Energy chip.
Bluetooth 5 offers a higher raw data rate – up to 2Mbit/s – and more range than Bluetooth 4.2, as well as better coexistence with other wireless devices and improved broadcast and beacon function.
Wireless interface and processing comes from Nordic Semiconductor's nRF52840 Bluetooth 5 + LE chip, which combines a 64MHz 32bit Arm Cortex M4F with 1Mbyte flash, 256kbyte RAM and a 2.4GHz multi-protocol radio.
It can be powered by a rechargeable Li-polymer battery, replaceable coin cell batteries, or via Micro-USB.
"The automated power consumption system of the Bluetooth 5 SoC, and the configurable power management modes of the sensors, give the RoKi sensor node about 8 hours of typical active usage, and an estimated standby time of 200 hours," said Rohm.
It comes in a 42x67x22mm housing with a programmable RGY LED, expansion is through connectors, and there is also 64Mbit of additional flash memory.
Mounting accessories allow it to be attached to surfaces with screws or be worn like a watch.
Software support packages include a Windows GUI with visualisation and data logging, a Python-based command line interface, an Android data logger app, Arm's Mbed design tool and Nordic Semiconductor's nRF5 SDK – the latter allows secure over-the-air device firmware updates (OTA-DFU).
See it at Sensors Expo in San Jose on June 27-28 at booth 516.
[ad_2]

Source link