[ad_1]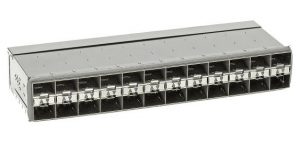 "The preferential coupling design uses a narrow-edge, coupled, blanked-and-formed contact geometry and insert moulding which provides superior signal integrity and EMI protection," said the firm.
The products include EMI ganged cages—which are available in multiple port sizes from 2×1 through 2×12—allows for flexibility of PCB signal routing of LEDs. zSFP+ SMT connector shares the same PCB footprint, mating interface and EMI cage dimensions as the SFP+ SMT form factor, making it backward compatible.
Single-port and 1x ganged cages are available to support multiple design options. Single-port cages feature press-fit, solder-post and PCI (1°) versions, for use with various board thicknesses and assembly processes at a comparable cost to SFP+ cages. EMI ganged cages use Gen II EMI belly gaskets provide superior EMI shielding compared to SFP+ cages.
The press-fit tails accommodate belly-to-belly applications for both single and ganged cages to ensure the best use of PCB space. Cages will offer optional rear- and side-mounted light pipe cover assemblies to allow for flexibility of PCB signal routing for LEDs.
LC duplex cable assemblies, with optical mode three and four (OM3, OM4) fiber, are used with zSFP+ optical modules. LC duplex assemblies offer an interconnect solution with customisation options for cable length and strain-relief boots including straight, 45° and 90°. LC loop-back assemblies provide a means for testing SFP and SFF devices in many applications.
[ad_2]

Source link