[ad_1]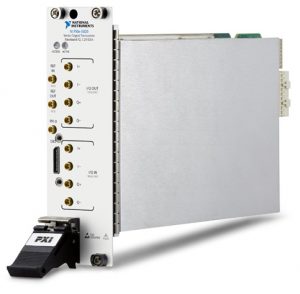 The PXIe-5820 software programmable module has 1GHz of complex I/Q bandwidth. This capability comes from the module's wideband I/Q digitiser, wideband I/Q arbitrary waveform generator and user-programmable FPGA.
This makes its suitable for baseband I/Q testing of wireless and cellular chipsets as well as envelope tracking of digitally pre-distorted waveforms for power amplifier, and generation and analysis of new wireless standards such as 5G, 802.11ax and LTE-Advanced Pro.
For example, the measurement accuracy to measure 802.11ax error vector magnitude performance is -54dB.
The module's baseband 2-channel differential I/Q has a 4Vpp differential input and a 2Vpp differential output swing.
Ruan Lourens, chief architect of R&D, RF at NI, writes:
"We have managed to optimize in every possible domain, from thermal and electrical to digital signal processing, to successfully deliver 1GHz complex I/Q bandwidth in a small form factor.

"The baseband VST can be tightly synchronised with the PXIe-5840 RF VST to sub-nanosecond accuracy, to offer a complete solution for RF and baseband differential I/Q testing of wireless chipsets."
You can read more about the baseband model of the second-generation VST at www.ni.com/vst/.
See also: MWC: Rohde & Schwarz, MediaTek collaborate on 5G wireless comms
[ad_2]

Source link