[ad_1]

Individual growth rates in the three market segments were all over the map:
Optoelectronics sales fell 3.6% in 2016, primarily because of the first decline in lamp devices in 15 years due to an oversupply of high-brightness light-emitting diodes (LEDs) for solid-state lighting applications.
Sensors and actuators increased 16% and discretes grew  4%.
O-S-D products generated 19% of total semiconductor sales in 2016, with the rest of the dollar volume coming in integrated circuits $297.7 billion, which was a 4% increase from 2015.
IC Insights believes O-S-D sales will stabilize in 2017 and gradually return to more normal growth until 2021.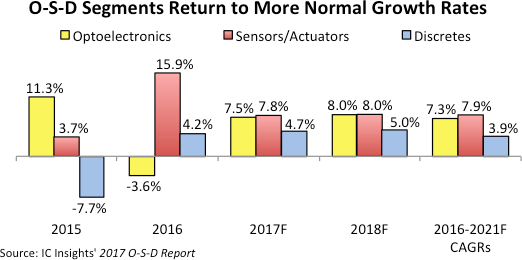 Slight improvements in the weak global economy, steady increases in electronics production, and new end-use applications—such as wearable systems, billions of connections to the IoT, the spread of image recognition in all types of equipment, and the proliferation of LED lighting around the world—are forecast to lift the three O-S-D markets in the next five years to $92.2 billion, which is a CAGR of 6.3% from 2016 compared to a projected CAGR of 5.7% for ICs.
Optoelectronics sales fell 3.6% in 2016 to $33.9 billion, suffering their first setback in eight years. Sales of lamp devices, the largest optoelectronics product category, declined 8%. Meanwhile, an oversupply of high-brightness LEDs for solid-state lighting applications also dragged the market down.
The downturn is expected to be short lived as image sensors, especially those made with CMOS technology, are in the midst of a major new wave of growth, driven by new embedded cameras and digital imaging applications in automotive, medical, machine vision, security, wearable systems, and user-recognition interfaces.
Laser transmitters are also hitting new record-high sales because of the build-out of high-speed optical networks for huge increases in Internet traffic, digital video transmissions, cloud-computing services, and billions of new IoT connections in the coming years. Total optoelectronics sales are expected to grow 7.5% in 2017 to reach a new record high of $36.5 billion.
Sensors/Actuators, the smallest and until recently the fastest-increasing semiconductor market, ended four straight years of severe price erosion in 2016 and finally benefitted from strong unit growth. Sensors/actuator sales climbed 15.9% to a record-high $11.9 billion.
All major sensor product categories (pressure, acceleration/yaw, and magnetic sensors) and the large actuator segment saw double-digit sales growth in 2016.
The sensors/actuators market is projected to rise 7.8% in 2017 to reach a new record-high level of $12.8 billion.
In the next five years, sensors/actuators sales are forecast to be driven by the spread of automated embedded-control functions in vehicles (including autonomous driving capabilities), flying drones, industrial and robotic systems, home electronics, and measurement units being tied to IoT.
Discretes, the semiconductor industry's oldest market, returned to normal growth in 2016 with sales increasing 4.2% to $22.1 billion.
In the last seven years, worldwide discretes sales have swung back and forth between strong increases and declines because systems manufacturers tend to abruptly cancel purchases whenever the economy and end-use product markets appears to be slowing, but then quickly resume buying to replenish factory inventories once the outlook improves.
With inventories being replenished in much of 2016, growth returned to five out of the six discretes product categories—power transistors, small-signal transistors, diodes, rectifiers, and miscellaneous "other" discretes group. The only sales drop in discretes was recorded by thyristors. Total discretes revenues are forecast to rise 4.7% in 2017 to a new record-high $23.1 billion.
[ad_2]

Source link