[ad_1]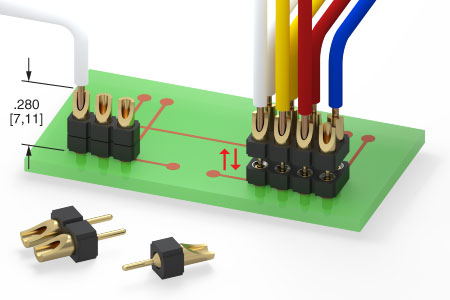 I know that I have said in the past that some new products could be game changers, but Mill-Max's new Low-Profile Solder Cup Headers are the real deal!
These Solder Cup Headers replace the need for soldering wires directly to the PCB or bulky connectors.
According to Mill-Max, "low profile solder cup header delivering a 25% reduction in height as compared to our current product. These solder cup headers are ideal for making wire to board connections where keeping overall height to a minimum is essential".
The product detail goes on to say:
"The new 380-10-1XX-00-002000 (single row) & 480-10-2XX-00-002000 (double row) products feature a standoff height of .185? (4,7 mm), .100? (2,54 mm) pin spacing and .020? (,51 mm) diameter tails suitable for mating with a variety of sockets or terminating directly to a P.C.B.

The insulator material is Nylon 46 with an HDT of 290° C to withstand most soldering processes. The solder cups are uniformly aligned to facilitate efficient soldering, especially useful for terminating cables, and can accept up to 22 AWG stranded wire.

When mated with Mill-Max low profile board mounted sockets 315-XX-1XX-41-003000 (single row) or 415-XX-2XX-41-003000 (double row) a total interconnect height of .280? (7,11 mm) is achieved. They can also mate with Mill-Max standard solder cup sockets 329-XX-1XX-41-540000 (single row) or 429-XX-2XX-41-540000 (double row) for use in wire termination applications such as cable assemblies".
Anyone that has attempted to solder wires directly to PCB's will tell you how annoying it can be, especially if the through-hole is either that little bit too large or small.
Also, this provides a great alternative to crimp connectors as you can mix and match the wire gauges without having to worry about the wire matching crimp specifications.
So there you have it, a great innovation well worth designing into your next PCB Assembly!
Nick Lock, Nicab Ltd
[ad_2]

Source link