[ad_1]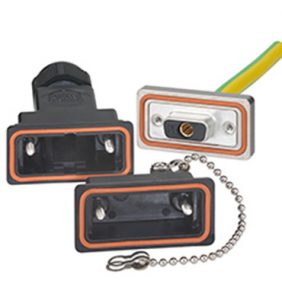 This week I bring you a quirky new product from Molex, the D-Sub Earthing Connector.
Yes, that's right an earthing point specifically designed around the traditional D-Type connector. What's more it's waterproof!
According to Molex, the Earthing Connector protects equipment from stray voltages through a secure and low-impedance connection to earth. The IP66 and IP67 NEMA-rated Earthing Connector protects sensitive equipment such as telecommunications base stations against water ingress in the field in mated condition.
A cap attached to the connector allows the unmated connector to be IP protected as well.
I have to say this product is a little unconventional, but I can see the attraction especially with the waterproof element. If you already make products that have a D-Sub cut out in the metal work then it reduces the tooling costs.
Molex also says:
"Mobile equipment such as base stations often operate in harsh environments and need flexible and fast installation and servicing. This means that the connections are exposed to the elements. The D-Sub Earthing Connector addresses the needs of fast installation and combines this with an industry known and robust form factor."
The D-Sub Earthing Connector features a 40.0A contact to an Earth cable (8 AWG) with straight termination and a metal sealing frame for rear installation. Two hexagonal bolts enable the connector to be mounted on the housing.
If you consider how many industrial devices require extra-large earthing points then I guess this product does make a lot of since. It will be interesting to see how many people decide to design this into their products. Only time will tell.
Nick Lock, Nicab Ltd
[ad_2]

Source link