[ad_1]


The project was conceived concept by the Direzione dei Servizi Tecnici del Governatorato dello Stato della Città del Vaticano, the same organisation that with Osram converted the Sistine Chapel to leds whose spectrum was deigned to get the correct apparent colour from Michelangelo's frescoes without damaging them.
"In addition to perfect lighting results the task also included visual aspects such as the discreet integration of luminaires into the architectural setting and incorporating an unobtrusive electrical installation," said Eladia Pulido, CEO of Osram Lighting Solutions.
The Vatican specified an illuminance level of up to 120 lux at night to provide safety for visitors, and to enable reading on the square during events and celebrations.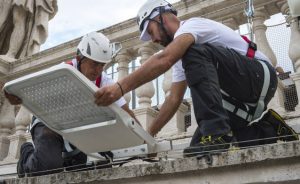 132 floodlights were installed to provide sufficient brightness and homogeneous illumination. They are 4,000K customer-specific version of Osram's Floodlight 20, with through-wiring and special plug connections to ease installation. Control is DALI.
"The light underlines the impressive columnar architecture and emphasises the innate colour of the marble," said Osram.
Up to 400,000 people gather in St Peter's Square, which is in front of St Peter's Basilica. The 'square' is actually a trapezoid intersecting an ellipse, totalling 48,000m2.
image credit: Governatorato SCV Direzione dei Musei
[ad_2]

Source link