[ad_1]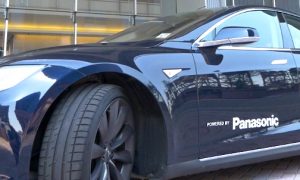 It has adopted Android 7.0 for the user interface of an in-vehicle infotainment (IVI) system it is developing with Qualcomm – a co-operation that was announced at CES in Las Vegas.
"State-of-the art Android 7.0 features give drivers a unified experience across an automaker's entire vehicle line-up, adjusting for different applications, screen sizes, and resolutions," said Panasonic. It "is designed to provide a platform to develop cloud-connected infotainment systems".
The operating system is running on a Qualcomm Snapdragon 820Am automotive processor which includes: quad-core Kryo CPU, Hexagon 680 DSP, Adreno 530 GPU and X12 LTE modem (up to 600Mbit/s downlink and 150Mbit/s up).
Multiple high-definition displays and location services are supported.
During CES demonstrations will include control of in-vehicle functions such as air-conditioning, Google's services and Android applications.
Applications will deliver a "safety-focused" driving experience, said Panasonic, which added that the included 'Panasonic Automotive passenger' application is "designed to address the challenges that passengers have when entering navigation destinations or controlling music".
See also:
For our full CES coverage, simply bookmark: www.electronicsweekly.com/tag/ces/
[ad_2]

Source link