[ad_1]

Cal Test Electronics is offering the CT4200 series of passive voltage oscilloscope probes featuring compact 2.5 mm barrel size and bandwidths from 55MHz to 1.5GHz.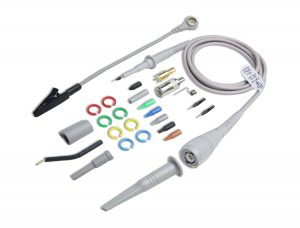 The 8 model series includes 1x, 10x, 20x, and 100x attenuation ratios. 
Six models interface with oscilloscopes having 1 MΩ input impedances while two models require 50 Ω input impedances. 
These models will work with most modern oscilloscopes, says Cal test.
The CT4200 series carries CE listing, including RoHS 2 compliance.  
The CT4200 Series features:
Readout acuator
Snap-locking sprung hook
BNC and PCB tip adapters
IC tip insulators
8 Colour ID rings
Both fixed and spring-loaded tips, all easily replaceable
3 grounding options: Spring, swivel, and traditional alligator clip lead
[ad_2]

Source link