[ad_1]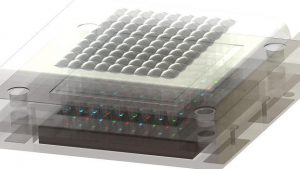 Plessey is offering a light source for illuminating DMD (digital micro-mirror device) or LCoS (liquid crystal-on-silicon) display engines, based on monolithic arrays of micro-LEDs, claiming that the resulting optical system will be up to 50% smaller, lighter and simpler than incumbent solutions, as well as more power-efficient.
"Plessey's Quanta-Brite technology can be a major enabler of the future of augmented reality," said Vuzix CEO Paul Travers. "As well as delivering high-efficiency, low-power and small-size illumination capabilities, the very high level of luminescence of the light source can also enable the development of end products with a sleeker form factor, which is a key attribute of our wave-guide based smart glasses and critical to mass market adoption."
The micro-LED arrays are built using Plessey's GaN-on-silicon technology, combined with its integrated circuit building knowledge monolithic integration with on-die conductors. The firm has also developed a way to deposit red and green phosphors on two thirds of the inherently blue-emitting micron-scale LEDs to produce hundreds or thousand of RGB pixels.
"This development with Vuzix, a leading actor in the exploration of next-generation augmented reality, is a significant endorsement of Plessey's GaN-on-silicon microLED approach,' said Plessey CEO Dr Keith Strickland.
Vuzix has already developed smart glasses culminating in the Vuzix Blade which uses proprietary waveguide optics – formed from nanostructures ion glass.
The next generation, according to Plessey, will use Plessey micro-LED arrays.
This announcement does not cover RGB micro-LED displays, intended to entirely replace DMDs and LCoSs, which some contend will be the ultimate image source for AR glasses.
According to the Consumer Technology Association (CTA), headsets and eyewear outfitted for AR and VR applications are set for record sales this year of $1.2 billion in the US market alone.
Plessey recently participated at Display Week 2018, an international trade show and symposium that was held at the Convention Center in Los Angeles from May 20–25 and organised by the Society for Information Display. At the event, Dr Strickland delivered a paper looking at the future of microLED displays using next-generation technologies.
National award recognition continues to build for Plessey's ground-breaking MicroLED GaN-on-Silicon display technology. Plessey was recently announced as 'Tech Company of the Year' at the National Technology Awards 2018, a prestigious annual awards programme celebrating pioneers of new technology, focusing on innovation. Plessey's recent win builds upon their hugely successful year in the awards industry in 2017, where Plessey was awarded the highest accolade at the Elektra Awards with 'Company of the Year' as well as well as winning the coveted 'Grand Prix' award at the British Engineering Excellence Awards (BEEAs).
For further information, please visit: http://www.plesseysemiconductors.com/products/microleds/
Suggested photo caption:
Plessey's monolithic microLED array Quanta-Brite™ light source
About Plessey
Plessey is a leading expert in the development and licensing of technologies that are revolutionising the solid-state lighting sector. With its in-depth understanding and breadth of patents relating to GaN-on-Silicon, the company has established itself as a valued IP partner to OEMs producing the next generation of photonics solutions. Plessey has been successfully licensing its pioneering sensor technology solutions within the healthcare and automotive sectors for many years.
For further information and datasheets, please visit www.plesseysemiconductors.com or email sales@plesseysemi.com. You can also follow Plessey on Twitter, Facebook and LinkedIn.
Contact for editorial information
Nayl D'Souza, Account Director, Publitek
[ad_2]

Source link