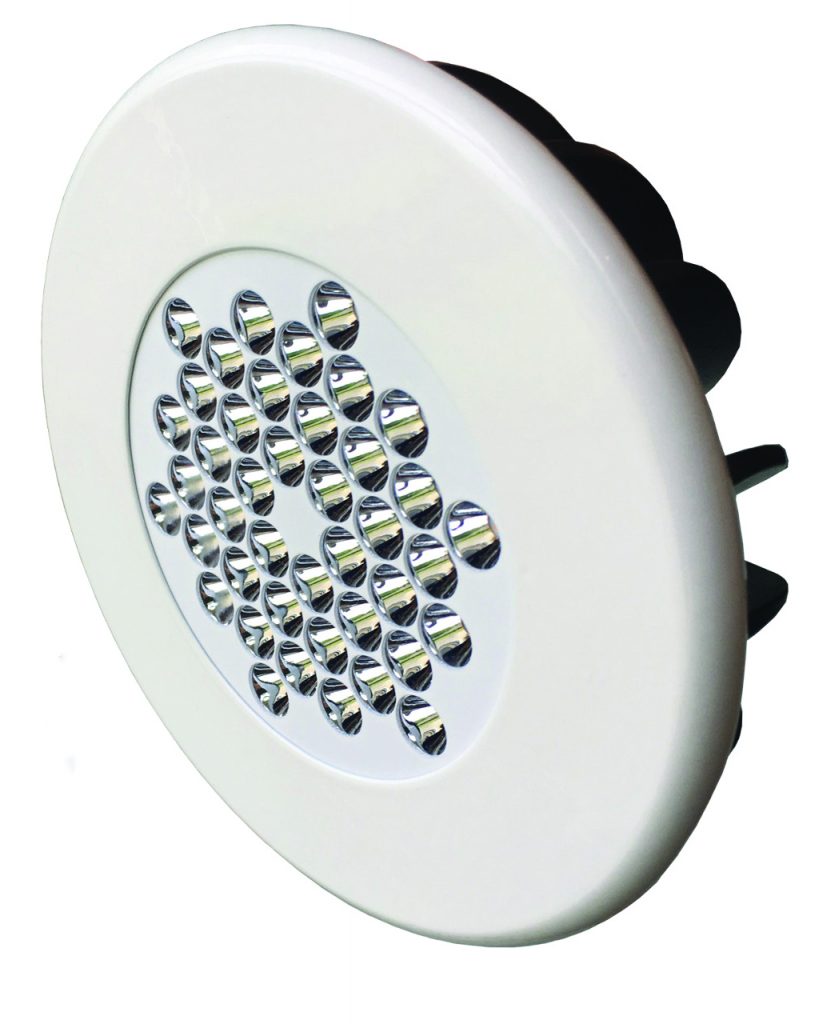 Plymouth-based Plessey is the UK's only LED maker, and the only LED maker in the world commercially making LEDs on silicon substrates.
The driving force behind this seemingly quintessential British semiconductor firm is actually a Canadian, Michael LeGoff, who a decade ago resurrected the Plessey name using ex-Plessey resources (see history box, below).
The firm's headquarters and three semiconductor manufacturing cleanrooms are now on one site, covering 13 acres at Roborough on the outskirts of Plymouth, plus, it owns 15 acres of adjacent land, on to which it could expand.
Within those cleanrooms, it has two MOCVD reactors for making 6-inch GaN-on-silicon LED wafers – with space prepared for two more. Alongside LEDs, its fabs are capable of making CMOS ICs, bipolar ICs and discrete semiconductors.
Building a mass-production LED GaN-on-Si process from proof‑of‑concept wafers has been a steep climb.
The firm's GaN-on-silicon intellectual property came from buying University of Cambridge spin-out CamGaN in 2011/12.
GaN-on-silicon is theoretically a cheaper way to make LEDs than traditional GaN‑on‑sapphire, or Cree's even more expensive high-end GaN‑on‑SiC process, because silicon is by far the lowest-cost substrate material. Plessey insists that this theoretical cost advantage has definitely translated into a lower product cost.
"Especially in high-power applications, the die is a significant proportion of cost, and our die is cheaper," applications engineering manager Leon Baruah told Electronics Weekly.
"Our process is also quite automated because we use standard silicon semiconductor manufacturing technology, while theirs [competitors'] are quite manual. In volume, if you are considering that a typical 7070 [7x7mm LED] can be sold for $2.50-$3, we sell our packaged part for $1.50."
A contender
This 7070 part is something of landmark for Plessey.
First, according to Plessey operations director Mike Snaith, it is on a par with Cree's four die MKR LED in efficacy – so Plessey can mix-it with the big boys in the crucial light-output per-unit of electricity metric.
And LeGoff sees only the high‑tech LED makers as competition: "Our competitors are Cree Osram and Lumileds," he tells Electronics Weekly, adding that Chinese LED makers have not yet achieved sufficient quality to compete, and are relying on joint ventures.
Second, with its 7070 Plessey has in some ways jumped ahead of the competitors, using its established chip-making expertise to integrate multiple emissive junctions on a single die, rather than incorporating multiple single-junction die.
The Plessey 7070 has four junctions tiled in a square on a single piece of silicon, connected in series using chip‑style metallisation layers. Competitors, including Cree with its 7x7mm MKR, wire-bond four individual die on to a substrate.
Optically, the separate die technique is at a disadvantage because it needs comparatively large gaps between die, leaving a 'black cross' in the emission surface, which translates to a central dim patch in any narrow beam created from the LED. This effect is not noticeable with the black cross of Plessey's device which is smaller than a hair's breadth.
Protection diodes and driver circuits could also be integrated into LEDs monolithically, should the need arise, adds Snaith.
On the non-lighting LED front, the firm has demonstrated micro-LEDs for use in printing in the form of phosphor-based linear RGB arrays with emitters on a 50-30µm pitch. Near-eye displays are another application foreseen for micro-LEDs at Plessey.
As well as making lighting LEDs, Plessey makes its own lighting products.
Having in-house lighting activities is something of a necessary albatross for all LED makers; Cree, Lumileds and Osram all have them.
The reason LED firms make lights is to seed a market for purpose-made LED lighting by showing potential users what is possible – something that established lighting firms are not doing, instead relying on swapping LED 'light bulbs' into existing products.
Plessey LED products include its 'Stellar Orion' light engine family that uses one-per-die close-proximity mini-reflectors to create down-lighter-like beams from pancake-like modules under 10mm thick.
And it is creating its own line of red+blue spectrum 'grow-lamps' to boost horticultural crop production – and recently employed its first agronomist.
Since LeGoff took over, investment at Roborough, including some government cash, is somewhere north of £50m, and it has worked.
"The LED product is profitable and selling into the US, Europe, China and Taiwan – and the Japanese are looking at our 3535. We have a £7m LED order book and we are gaining traction," says LeGoff, adding that the order book for non-LED products is of similar size.
This said, the firm could be approaching a fork in the road – expand operations in the UK, or give way to the temptation to go abroad.
Room to manoeuvre
LeGoff readily points out: "We are still sub-scale because we can't generate enough sales to cover the cost of the factory with two [GaN-on-Si] reactors."
This is why cleanroom space is prepared for two more reactors, and two more reactors are reserved at the manufacturer.
While LeGoff wants to keep all of Plessey in Plymouth, other nations are knocking on his door to land those reactors in the US, China or Taiwan.
At the same time, UK investors are lukewarm about scaling up UK manufacturing, and little interested much beyond the M25, says LeGoff.
Furthermore, much to LeGoff's frustration, the UK government, which directs UK railways to buy rails from Scunthorpe, he says, will not lift a finger to promote UK LEDs.
For example, the government will not even do something as mild as suggest to councils that are upgrading streetlights that they consider specifying UK-made LEDs.
"We are not saying give us £100m, we say 'support us in more tangible ways than just waving the flag'." Plessey's scale-up dilemma was covered in detail in Electronics Weekly 20 September 2017.
Plessey: A little bit of history
Although Plessey uses the Plymouth fab built by Plessey in the 1980s, in much-updated form, it is not the same company, and a lot of water has flowed under the bridge in the intervening 30 years.
Modern Plessey was founded in 2009 by its current CEO, Canadian Michael LeGoff – who was also founder of Dynex Semiconductors in 1995.
In 2000, Canadian firm Dynex bought the Lincolnshire fab of Mitel, established by AEI Semiconductors in 1956, then operated as Marconi Electronic Devices, then as GEC Plessey Semiconductors – LeGoff's first official brush with the Plessey name.
"Mitel got GEC Plessey Lincoln when it bought GEC Plessey Semiconductors, and didn't really know what to do with it," LeGoff tells Electronics Weekly.
Dynex bought it in 2000 and moved its operations to Lincoln, eventually producing megawatt-scale power semiconductors – London's Northern Line, French TGV trains, and a lot of Chinese infrastructure include Dynex devices, according to LeGoff.
It was one of the major Chinese customers – Zhuzhou CSR Times Electric – that bought most of Dynex in the noughties, and giant thyristors and IGBTs are still made by Dynex in Lincoln.
LeGoff's next move was to relaunch the Plessey name, buying Zarlink's (GEC Plessey Semiconductors re-named) Swindon fab in 2008.
Obtaining the Plessey name is something LeGoff has never regretted. "It has opened a lot of doors," he says.
Seeking another semiconductor plant in 2010, he bought X-Fab's Plymouth fab – built by the original Plessey in the 1980s.
LeGoff insists he wasn't deliberately collecting ex-Plessey sites: "We analysed what was available, and out came Plymouth," he says.
Plessey's Swindon fab is now closed. "We brought those who wanted to move to Plymouth," says LeGoff, along with Swindon's bipolar and silicon-on-insulator processes.
Its LED intellectual property arrived when it bought University of Cambridge spin-out CamGaN in 2011/12.
Although it concentrates on LEDs, Plessey still makes traditional semiconductors including PiN diodes and photo diodes.