[ad_1]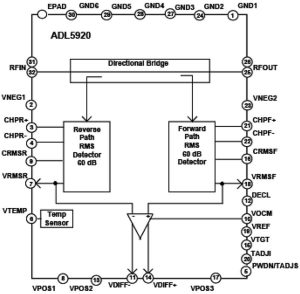 ADL5920 detector represents a change to conventional approaches by integrating a directional bridge-based coupler which integrates the coupling or sensing function with the detection function and provides an output that can drive an ADC directly.
Forward and reverse power in the bridge is measured using two high range RMS detectors. The ratio of the forward and reverse power levels is also measured and provided as a differential output voltage with an adjustable common mode level. Bridge and detector circuitry is internally DC coupled to allow for frequency measurements. By applying an optional -2.5V negative supply, ground referenced dc-coupled signals can be applied.
"For wideband operation or for frequency variants, ADL5920 detector eliminates the need to choose a different directional coupler for each frequency," said the firm.
Power detector
The ADL5920 is an ultra-wide band bi-directional bridge detector that can simultaneously measure forward and reverse RMS power levels in a signal path along with return loss.
Maximum input signal on each of the RF ports (RFIP and RFOP) is +30dBm with handling capability for open and shorted loads.
Supplied in a 32 lead, 5  x 5mm LFCSP, power is 5V at 150mA (powered down via PWDN pin), and operation is over -40 to +85°C.
The part is sampling now, with production planned in December, and there is an evaluation board.
Spplications are expected in: broadband in-line power and return loss measurement in wireless transmitters, signal generators, network analysers and wireless communication testers.
At a glance
Frequency Range: 9KHz to 7GHz
Insertion Loss:  0.9dB@1GHz   1.9dB@6GHz
Input and Output Return Loss/VSWR: <1 GHz   >15dB (<1:1.4), 1 to 3GHz    15dB (1:1.4), 3 to 6GHz: 13dB (1:1.6)
OIP3: +70.5 dBm
Directivity:  23dB@1GHz    14dB@3GHz    6dB@6GHz
Max Input Power: +30 dBm
Forward power measurement range: 50dB at 1GHz
Linear-in-dB outputs for RMS and return loss
[ad_2]

Source link