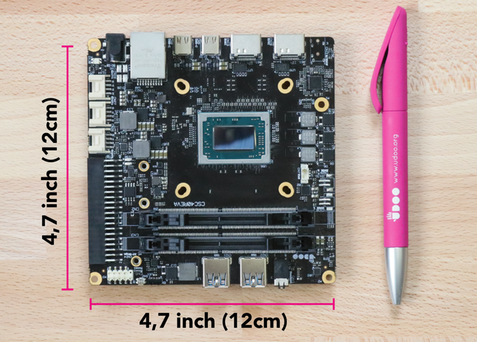 The mini computer is described by its creators as "insanely powerful", capable of running high-end VR, AAA Gaming, mining cryptocurrencies, client-side 3D rendering, AI, IoT and Computer Vision…
They introduce it thus:
"The UDOO BOLT is a quantum leap compared to current maker boards: a portable, breakthrough supercomputer that goes up to 3.6 GHz thanks to the brand-new AMD Ryzen Embedded V1000 SoC, a top-notch, multicore CPU with a mobile GPU on par with GTX 950M and an integrated Arduino-compatible platform, all wrapped into one."

"The UDOO BOLT is the world's first maker board with a shockingly powerful GPU – nothing short than AMD Radeon Vega 8 and AMD Radeon Vega 3 Graphics, the most incredible GPUs you've ever seen on a maker platform."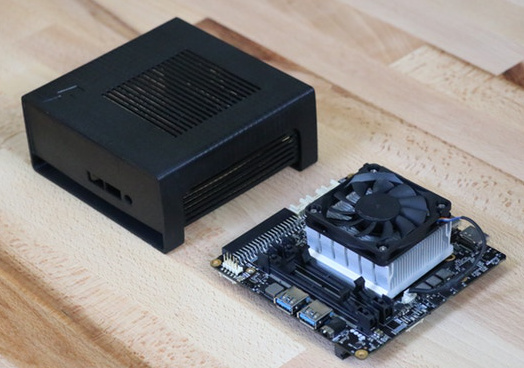 It can run Linux or Windows, basically anything you could load on your PC.
The full specs for the two options (V3 and V8, matching the graphics cards) are pictured further below (click to enlarge)
Check out more info on the Udoo website, and you can follow the progress of the campaign on Kickstarter.
At the time of writing, 1,093 backers have already pledged $356,696, busting the $75,970 goal, and there are 37 days left. It's a hit!
 Udoo Bolt and Arduino
On the Arduino side of things, the Udoo Bolt mounts an Arduino' Leonardo-compatible microcontroller, based on ATmega32U4.
It has the same pin functionality of Arduino' Uno but with some advantages (12 analog inputs instead of 6, 7 PWM pins and internal USB connection can implement other functions than serial UART).
It also has full Arduino IDE full compatibility.
For IoT development, you have the advantage of managing sensors through the Arduino platform, Udoo points out, without the welder thanks to the Grove connectors already onboard.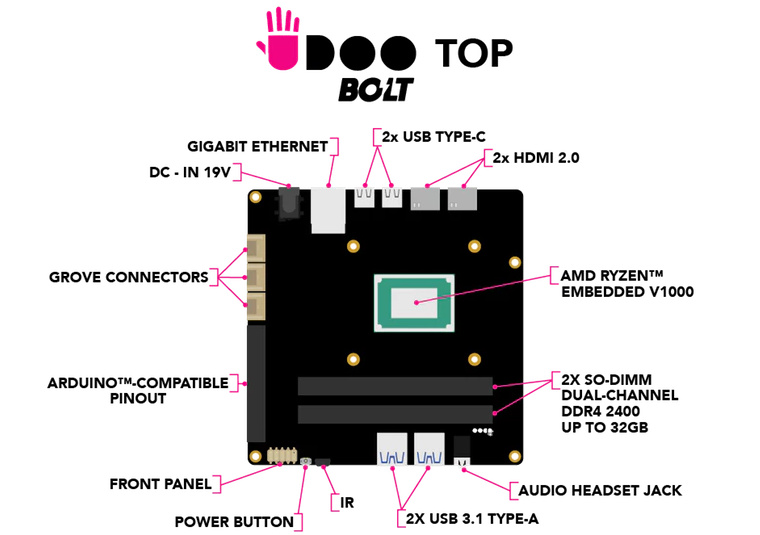 So, there's a lot going on. The Udoo team writes:
"Not only you get the Arduino'-dedicated I/Os, but also I/Os controlled by the processor. Last but not least, we've also added an embedded controller that can manage UART, I2C, and SPI, not to mention a keyboard scan, so to control the software running on the UDOO BOLT. In other words, you can create an interface for the software controllable with the keyboard."

"As a cherry on top, the UDOO BOLT features the communication between the CPU and the Arduino'-compatible platform via USB. Thanks to this distinctive feature, the board may allow the Arduino-compatible microcontroller to run when the powerful CPU is turned off, and wake it up when something happened in the world."
Cost
Pricing indications?
If you pledge $229 (about £175) you will get an early bird Udoo Bolt v3 (including starter kit and power cable).
If you pledge $378 (about £285) you will get an early bird Udoo Bolt v3 (including starter kit and power cable).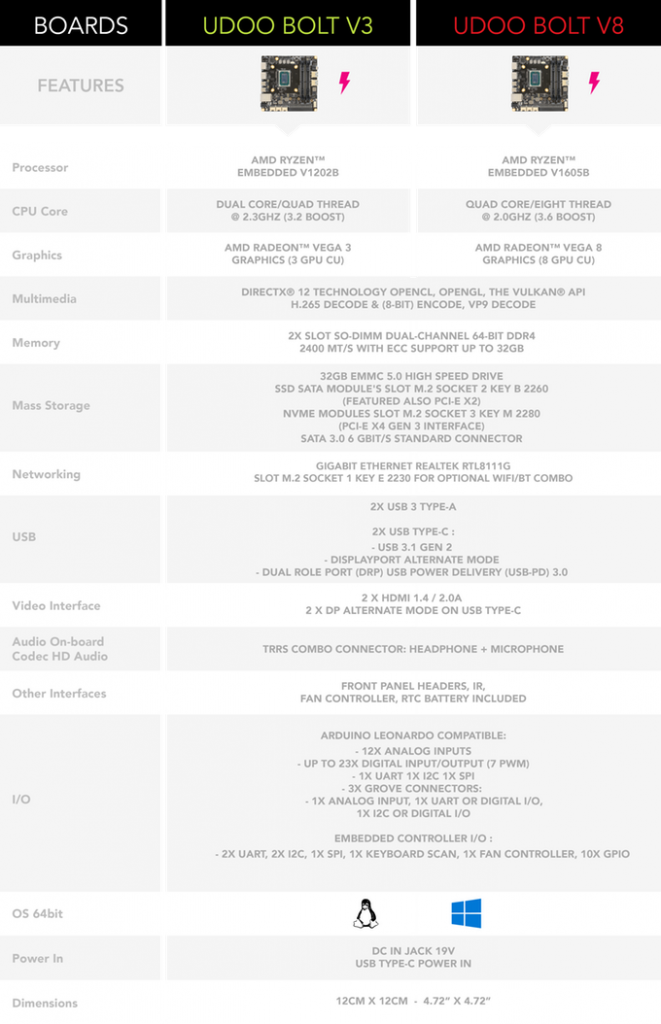 Udoo Neo
We first featured the original Udoo on Gadget Master way back in April 2013, and the UDOO board ran Android or Linux.
The team then moved things on two years later by introducing the Udoo Neo, a more powerful wireless module which again runs both Android and Linux, which was based on the Arduino.
They found the original Udoo board was being used by start-ups to prototype systems such as augmented reality applications for museums, and so the developers came up with the Neo board aimed squarely at IoT product development.
So, after IoT in 2015 comes AI and VR in 2018. A pattern that will become increasingly familiar, I think.