[ad_1]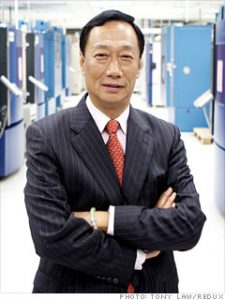 "Because of you we are also committed to great jobs for Americans," Terry Gou, chairman of Foxconn (pictured) told President Donald Trump, "Mr President, the eagle flies."
Calling Gou "one of the world's greatest entrepreneurs," Trump said that the investment "represents the return of LCD electronics to the United States," adding "to make such a remarkable investment Chairman Gou put his faith and judgment in the American economy," and cracking "in other words, if I hadn't got elected, he definitely wouldn't be spending $10 billion."
"Foxconn is on a big list of industry leaders who believe that America's most prosperous decades are just ahead," said Trump.
Gou said Foxconn would invest $10 billion to create 13,000 jobs making LCD panels.
The Governor of Wisconsin, Scott Walker, said the average salary for the 13,000 workers will be $53,000 plus benefits. He said the investment would also create 22,000 indirect jobs in Wisconsin and that building the 22 million sq ft manufacturing campus would employ 10,000 construction workers.
"I thank you for your investment in the American worker," Trump told Gou, "they will never let you down."
Wisconsin and the US federal government will invest $3 billion in the project which means the cost for each new job is $130,000.
"This a great day for American manufacturing," said House Speaker Paul Ryan, "it is another example of how our region is really a manufacturing powerhouse – this is the topper of all toppers."
Wisconsin is one of the key states, including Pennsylvania and Michigan, which swung the election for Trump last November. The White House Chief of Staff says that President Trump personally recommended the site to Terry Gou.
[ad_2]

Source link