November wouldn't be complete, for many in the industry at least, without a trip to Munich to visit one of the city's huge biannual electronics shows.
This year it's the turn of Productronica (14-17 November) – the sister show of Electronica, with which it alternates annually – and the 37,000 or so visitors that are expected to attend will be scouring the halls for the latest developments in every aspect of electronics manufacturing and services.
Great expectations: More than 37,000 visitors are expected to visit this year's show at Messe Munchen, Munich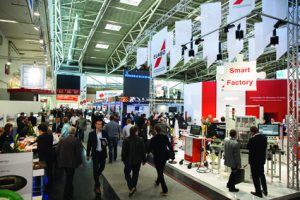 New for this year is a tie-up with Semicon Europa, the annual show of global semiconductor trade association Semi. Under the agreement, Semicon Europa will run alongside Productronica and Electronica, whichever is running in a given year.
Productronica will also play host, for second time, to IT2Industry, which covers areas including cloud computing, big data, IT security and M2M communications.
So what's on? To make it as easy as possible to navigate the 1,200 or so exhibitors at the show, Productronica's exhibits are broken down into five clusters.
EMS and PCB
For those interested in electronic manufacturing services (EMS) and PCB manufacturing, Hall 3 of Messe München plays host to the PCB & EMS Marketplace. Here, exhibits cover everything from the manufacture of circuit substrates to the system solutions of EMS service providers. Major exhibitors will include companies such as chemical and equipment suppliers Atotech, the Schmid Group and Schmoll Maschinen.
SMT
Surface mount technology (SMT) takes centre stage across halls A1 to A4 in the biggest zone of the show. Here, exhibitors will present the entire SMT value chain – from placement, soldering and measuring and testing technology to quality assurance and product finishing – across the four halls. Key exhibitors here include ASM Assembly, ERSA, Fuji Machine and Yamaha Motor.
Visitor attraction: Productronica 2015 featured some unusual exhibits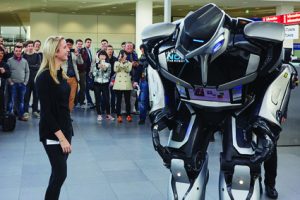 Cables, coils and hybrids
In hall A5 the focus falls on cables, coils and hybrids where, despite the trend toward wireless communication and machine control, visitors will see how cables are continuing to play a crucial role in the manufacturing and production process. Here, key exhibitors will include manufacturers such as Japan Automatic Machine, Komax, the Schäfer Group and Schleuniger.
Future markets
Over in hall B2, meanwhile, the focus turns to what's coming at the Future Markets Cluster. Here, exhibits will cover topics such as Industry 4.0, the smart factory and 3D printing. This cluster will be rounded out by the IT2Industry exhibition that will be integrated into the hall. IT2Industry bills itself as an open conference for intelligent, digitally networked working environments and features solutions for the industrial internet of things in areas such as cloud computing, big data, IT security and M2M communication. The event took place alongside Productronica for the first time in 2015, making this its second appearance at the event.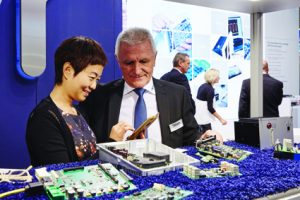 Semiconductors
The new addition to this year's show, Semicon Europa, will also feature in hall B2 as the centrepiece of Productronica's Semiconductors Cluster. The addition of this show comes in a year when the semiconductor industry is booming, with annual sales in 2017 expected to top $400bn for the first time (up around 17% on 2016), driven primarily by skyrocketing prices for memory chips.
All aboard: See and discuss the latest developments in electronics manufacturing and services
Semicon Europa will focus on suppliers and new developments in areas including semiconductor manufacturing, display production, LEDs and discrete components, the topics photovoltaic manufacturing, micro-nano production, materials processing and clean room technology.
Research houses and groups will also be showing their work on the future of semiconductors. The German group Fraunhofer, for instance, will be demonstrating its work with two institutes of the Leibniz Association, while Imec will also be at the event.
Another attraction in this zone will be a clean room exhibit to bring visitors up to date on this crucial aspect of semiconductor manufacturing. The 'clean zone' at the event will show how to ensure that plants run free of the contaminants that can harm product; moreover, a virtual reality feature will guide visitors around a clean room.
For those looking to learn as well as buy, Semicon Europa features a range of conferences on areas including fab management, advanced packaging, power electronics, materials and connected cars.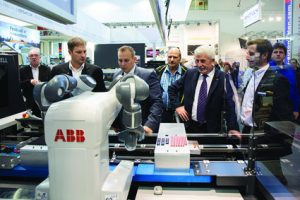 Among the many speakers at the event are representatives from household name organisations such as Airbus, Bosch, Cambridge University, CEA-Leti, Daimler, Fujifilm, GE, GlobalFoundries, Imec, Infineon, NXP, ST Microelectronics, TSMC, Volkswagen and many others.
Standing room only: ABB gathered interest on its stand at Productronica 2015
For full information on the speaker programme, visit www.semiconeuropa.org

Productronica 2017 factfile
Where: Messe München, Munich, Germany
Dates and opening times: 14-16 November: 9am-6pm; 17 November: 9am-4pm
Cost: from €38 for a pre-booked one-day ticket; two- and four-day tickets are available and ticket prices are higher if bought on-site
Co-located shows: Semicon Europe and IT2Industry
Online:  The Productronica website
Soldering world championships
Productronica may be mostly about production technology, but there is also some fun to be had.
One key attraction will be the IPC World Hand Soldering Competition, taking place throughout the show in hall A1 on stand 307, where competitors from across the globe will demonstrate their soldering skills and compete for cash prizes. The competition challenges entrants to hand-solder complex printed board assemblies and build a functional electronics assembly within a 60-minute time limit. Winners of the final on 17 November will receive cash awards of up to €1000, which will be presented the same day at 14:00 in the SMT speakers corner Hall A1, stand 220.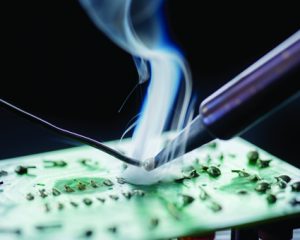 Another contest going on at the event will be the second edition of the Productronica Innovation Awards, which highlights the best innovations in six categories: Cable, Coils & Hybrids; Future Markets; Inspection & Quality; PCB & EMS; Semiconductors; and SMT.
The awards are open only to exhibiting companies, and winners will receive their awards on the opening day of the event, 14 November.
Image credit: Shutterstock