[ad_1]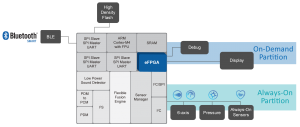 QuickLogic is to license its FPGA technology to SoC designers wanting hardware acceleration or reconfigurability.
The FPGA core being licensed is ArcticPro eFPGA,.
The initial foundry being used is GloFo, and the initial processes available are 65nm and 40nm with 22nm FD-SOI available next year. More foundries will be added next year.
"With nearly three decades of experience in developing ultra-low power and silicon efficient programmable logic technology and design tools, QuickLogic is in a unique position to support the rapidly growing need to add flexibility to SoC designs," says QuickLogic CEO Brian Faith, "this strategic initiative enables us to leverage years of investment and experience to substantially expand our reach into markets we were not previously addressing directly."
The choice of GloFo is, says Faith, "because it's low power and a lot less complex than finfet." Scalability is assured down to 12nm he says.
"QuickLogic's partnership with GLOBALFOUNDRIES adds a unique dimension to the FDX program by offering customers ultra-low power embedded FPGA (eFPGA) Intellectual Property, complete software tools and a compiler," says Faith, "this new capability provides users with a high level of design and product flexibility which will help lower costs and allow products to be easily customised to meet various and evolving market requirements."
QuickLogic has joined GLoFo's ' FDXcelerator Partner Program, a collaborative ecosystem that facilitates 22FDX SoC design and reduces time-to-market for customers.
"GLOBALFOUNDRIES' FDXcelerator program is a comprehensive design ecosystem that provides customers with the support and resources they need to get FDX™ FD-SOI technologies to market as quickly as possible," says GLoFo's Alain Mutricy, "leveraging QuickLogic's FPGA expertise will provide inherent hardware flexibility for FDX-based SoC designs and gain a critical time-to-market advantage for a broad range of embedded, battery powered and IoT applications."
The FDXcelerator Partner Program builds upon GloFo's' industry-first FD-SOI roadmap, a lower-cost migration path for designers on advanced nodes that is optimised for low power applications. By participating,
FDXcelerator Partners commit to provide specific resources, including EDA tools, IP, silicon platforms, reference designs, design services and packaging and test solutions. The program is based on an open framework which enables members to minimise development time and cost while simultaneously leveraging the inherent power and performance advantages of FDX technology.
To lower design risks and speed the implementation of ArcticPro eFPGA technology in SoC designs, QuickLogic will introduce the Borealisä Design Tool Suite in Q1 2017.
These tools will enable SoC designers to evaluate, target and define custom eFPGA logic cell array sizes and generate all the necessary design files for SoC integration.
[ad_2]

Source link