[ad_1]

The aim of this year's competition, say the organisers, is for young designers to use Raspberry Pi to improve the lives of people who have conditions that limit their ability to do the tasks that some people take for granted.
For example, this could include technology that helps athletes win a medal in the 2018 Winter Paralympics, aids visual impairment, or inventions which use music therapy to target mental health.
Anita Chandraker, who leads the digital service team at PA Consulting Group and sponsor for the competition, writes:
"The quality of inventions from young people over the past four years has impressed all those involved. More and more schools are taking a significant interest in coding following its introduction on the school curriculum, so it is even more important now for young people to understand the basics of programming and the power technology can have in transforming lives."
This year, school teams will be offered assistance via a forum on the Raspberry Pi Foundation website where a team of experts will be on hand to answer questions.
The competition is open to the following categories:
PA's primary school award: academic years 4-6
PA's secondary school award: academic years 7-11
PA's sixth form and college award: academic years 12-13
The winning team in each category will receive £1,000 prize money.
Some winners from previous years have used their prize money to invest in new innovations and gone on to achieve commercial success.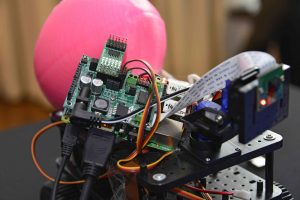 Winning entry, Truro and Penwith College, for example, used their prize money to develop a project, IndePIdance, aimed at medical rehabilitation. IndePIdance aims to develop a muscle monitoring system combined with a robotic exoskeleton controlled by a Raspberry Pi.
[ad_2]

Source link