[ad_1]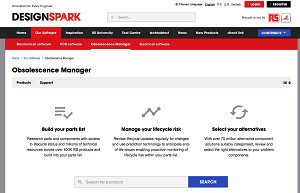 "Each year thousands of individual parts and components reach the end of their lifecycle and become obsolete. EOL notices can lead to substantial costs, as it means products often have to be redesigned or re-engineered," said RS.
Initially the free tool, called Obsolescence Manager, will be for electronic designs, and may be further expanded to cover the industrial parts such as new panel designs and existing production-line machines.
It will include product life-cycle status – whether components are 'active', 'not recommended for new designs' (NRFND), 'last time to buy' (LTB) or 'obsolete', as well as estimating the 'years to end of life' (YTEOL).
As many as 400,000 products will be included in the data base, including semiconductors, passives, connectors, relays, power supplies, switches and many other electronic and electrical devices.
A further 160,000 products are expected to be added by mid 2017.
The data set will also match with three million direct alternative products and 70 million functional and similar devices, and will be up-dated monthly, with changes logged in the system.
It will summarise a bill-of-materials against a list of parts available from RS, and customers will be able to anticipate component end-of-life issues against predicted project timelines, as well as enabling users to find solutions for difficult-to-source parts. "
"The search for a viable replacement component can also be extremely time consuming. In most circumstances, a replacement part will need to be at least as good as the original in terms of specifications such as footprint, pin-out, power consumption and heat dissipation, among others," said RS. "The tool will list parts that are alternative products in form, fit and function, as well as whether they are direct or similar replacements."
[ad_2]

Source link