[ad_1]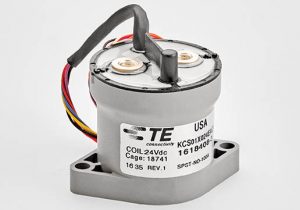 KCS01 has an integrated current sensor and current trip, and is intended harsh military and commercial electric vehicles, as well as power distribution, energy storage and battery storage.
"At 145g, KCS01 contactors are among the smallest 100A contactors in the industry," said TE product manager Earle Alldredge. "The extremely small size and simple design allows for flexible configuration in a range of applications."
The 100V 600Adc contactors can be mounted in most orientations and include bi-directional switching capabilities to accommodate a range of applications. The integrated dual-coil electronic economiser with internal coil suppression is EMC compliant, with no radiated coil emissions claimed.
It is hermetically sealed to extend performance in harsh, explosive and corrosive environments, even after periods of non-use.
For over 35 years, according to TE, Kilovac products have been used for high-voltage in aerospace and defence applications.
[ad_2]

Source link