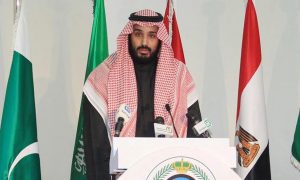 "This investment is a sign of confidence from the international investment community that our vision, our approach and our technology are the right path to commercialising space access," says Branson, "we are now just months away from Virgin Galactic sending people into space and Virgin Orbit placing satellites around the Earth."
"This investment will enable us to develop the next generation of human spaceflight, more economic satellite launches and accelerate our programme for transcontinental point-to-point space travel," he added.
 
"This partnership with Virgin Group reflects the great strides the kingdom is making towards our vision for a diversified, knowledge-based economy," says the Crown Prince of Saudi Arabia, Prince Mohammed bin Salman (pictured) adding that the investment would "enhance the role of innovative technology within the Kingdom's blueprint for a modern, diversified economy."
"The future of Saudi Arabia is one of innovation, as showcased at this week's Future Investment Initiative, and it's through partnerships with organisations like Virgin Group that we will make active contributions to those sectors and technologies that are driving progress on a global scale, " said the Crown Prince.
Branson is in a kind of race with Jeff Bezos and Elon Musk to start space tourism.
Bezos's space initistive Blue Origin says it could start commercial flights with its New Shepard rocket next year.
Three years ago, Branson's rocket blew up killing one pilot and seriously injuring the other.