[ad_1]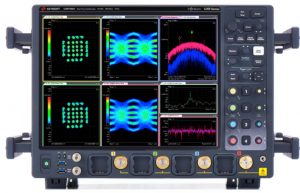 Called the Infiniium UXR-Series, it is is aimed at designers of high-speed serial links and electro-optical interfaces – for example DDR, USB, PCIe, PAM4, 5G comms, radar and satellite communications.
The crucial front-end chips are made on the firm's in-house 350GHz indium phosphide process – in total six new chips have been created for the UXR scopes, Keysight's head of oscilloscopes Brig Asay told Electronics Weekly. "There is a lot of technology and a whole bunch of packaging, all there to protect the signal and keep it pristine," he said.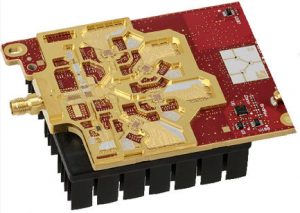 110GHz (and down to 40GHz) per-channel front end. "We use advanced Faraday cage technology to minimise noise on each component," said Keysight. 
Amongst those chips are:
110GHz pre-amp – Keysight's previous record holder was 30GHz
multi-GHz sampler – several interleaved per channel
10bit ADC – several interleaved per channel to achieve 256Gsample/s
Previously, said Keysight, oscilloscope hardware could not support 40GHz or above without frequency interleaving. "For the UXR, we've designed custom hardware that allows us to avoid this process by sampling the signal at the right speed."
Noise
According to Asay, the noise floor is about half of any existing high-end scope. "Take a 33GHz bandwidth scope, say ours at 50mV/div, and you get noise at 2.25mVrms," he said. "With this new scope, on the same settings, you get around 1.1mVrms."
Jitter
And on jitter he said: "Typically the best has been 150fs, and this scope gets 15fs. Path length matching is a huge part of the story. Before, we couldn't adjust for path length, now the processing allows it." – Calibrating path lengths is one of the jobs allocated to the custom control asic created for UXR scopes.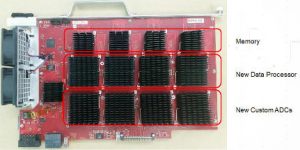 On top of this processing is a completely re-designed clocking system. "Sample-to-sample, it is really well aligned – no other scope comes close," said Asay, adding: "ENOB is also better than anything else on market, no matter what." – The firm has released an ENOB figure of "up to 6.8".
On four channel versions, said Keysight, there is less than 35fsrms of inter-channel intrinsic jitter.
As a result of this low level of noise and jitter, serial data 'eye' diagrams are less affected by the instrument and, as a result, said Keysight, eye diagrams are significantly more open, and true margins and performance can be determined.
On the subject of eye diagrams, Asay is claiming a high update rate – one millions eyes per second into 10Msample of memory.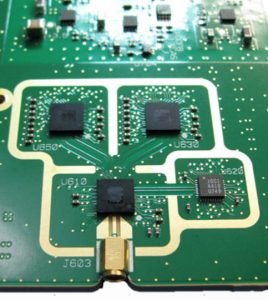 For those not needing the full speed, and wanting to save money, there are versions of the UXR with analogue bandwidths down to 13GHz. Signals are acquired at 256Gsample/s per channel on 40 to 110GHz models, and (front-end photo right) 128Gsample/s per channel on 13 to 33GHz models.
And installed memory can be varied up to 2Gsample.
Other options include: four and two channel versions, with either 1.0mm or 1.85mm input connectors, and a plug-in self-calibration module that includes a step-generator traceable to the US National Institute of Standards is available which
"Provides factory quality calibration on site and under your environmental conditions and ensures on-going measurement accuracy while reducing the need to take the unit out of service," according to the firm.
For optical systems, dealing with fast interfaces such as PAM4, and 400G, 600G and Tbit/s coherent interconnect, the firm has built an optical modulation analyser (OMA) around a UXR scope – branding this the N4391B optical modulation analyser, and introduced a 120Gsample/s arbitrary waveform generator called M8194A – that can create formats such as 64Gbaud 64QAM (quadrature amplitude modulation).
"High-speed serial and optical technologies are continually pushing speed and performance boundaries as the development of terabit and 5th generation serial technologies accelerate," said the v-p of Keysight's photonics centre Dave Cipriani. "The expanded UXR oscilloscope series, the UXR-based OMA, and Keysight's fastest AWG, collectively offer high-speed designers an unprecedented end-to-end solution to rapidly advance their technology development today, while providing investment protection into the future."
[ad_2]

Source link