[ad_1]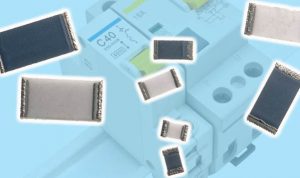 The product is essentially an evolution of the firm's PWC (pulse withstanding chip) resistors, but where the resistance value is adjusted by precise process control rather than by laser trimming – because laser trimming can cause current-crowding.
"This process maximises and improves the level of surge performance available in a single-sided flat chip design," said TT. "The HPWC range is ideal for protection and discharge applications in compact power supplies and power control circuits where a resistance tolerance of five percent is required."
Available in four sizes from 0805 to 2512, HPWC resistors withstand up to 6.5kV peak for a 1.2/50μs surge and up to 3kW for a 100μs pulse.
Resistance values available are from 1Ω0 to 100kΩ, and there are four sizes from 0805 to 2512, with ratings from 0.25 to 2W.
Applications foreseen are industrial and medical, in power supplies, circuit breakers, motor drives and input protection for medical monitors.
[ad_2]

Source link