[ad_1]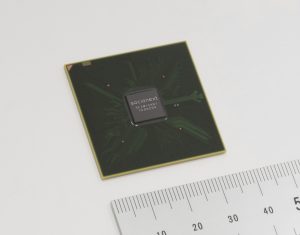 Socionext aims to provide high-performance, low power image recognition solutions for various embedded systems for home and industrial use, as well as automotive systems.
The SC1810 features further evolved functions and performance for in-vehicle graphics display controllers, which the company has proven track record.
The SoC can handle 6 channels Full HD video inputs and 3 channels of Full HD display outputs, enabling variety of input and output controls. The SoC realizes "Integrated HMI (Human Machine Interface) system" which manages various information from inside and outside the car and controls multiple displays, with higher definition and image quality.
The SC1810 is equipped with a proprietary "Vision Processor Unit (VPU)", which is compliant with the computer vision API OpenVX, developed by the standardization organization Khronos Group.
The SC1810 VPU includes the world's first OpenVX compliant hardware accelerator, as well as programmable data parallel accelerator, enabling advanced image recognition and other advanced functions at high speed and low power consumption.
Socionext has been providing solutions based on its graphics display controllers, such as OMNIVIEW, a 360-degree wrap-around view system, which generates a three dimensional view around the vehicle from any perspective, and the Approaching Object Detection function, which analyzes in-vehicle camera images and alerts the driver of objects such as pedestrians or bicycles.
The SC1810, with its dedicated Vision Processor, is able to expand the image recognition capability while improving the conventional display controller functionalities.
In addition, it has an H.264 CODEC that can process multiple channels of camera images simultaneously, supporting 360-degree recording by drive recorders which are rapidly gaining popularity.
OpenVX is an open standard API that has been developed to be implemented by hardware vendors. Conformance tests are available, making it an ideal platform for commercial use. Extended specifications to neural networks have already been released. It is thought to be an API that will lead various applications that require computer vision in the future.
With the SC1810, compliant with OpenVX, Socionext can now offer a wide range of solutions in the computer vision field, including image recognition for a variety of embedded devices for home and industrial use, as well as for automotive. Socionext will continue expanding the libraries and aim to evolve and grow in the ever-developing field of computer vision technology.
[ad_2]

Source link