[ad_1]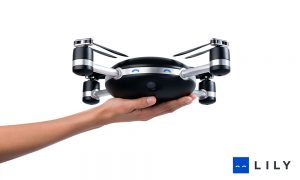 San Francisco-based Lily Robotics, a three year old crowd-funded startup, is the latest camera drone firm to fail.
In a message on the company blog, Lily founders Antoine Balaresque and Henry Bradlow said that "the adventure comes to an end."
Lily was a typical tech startup; it was inspired by young engineers with a clever idea and ambitious plans.
It started in September 2013 in the basement of a UC Berkeley robotics lab, where Balaresque and Bradlow built the first prototype camera drone using Raspberry Pi and Arduino development boards.
It got backers and a successful crowd-funding campaign with as many as 60,000 pre-orders of $499, but the firm has struggled to bring its drone to market in time to compete with established firms, most notably from China.
Lily produced a beta product, but according to Balaresque and Bradlow:
"We have been racing against a clock of ever-diminishing funds. Over the past few months, we have tried to secure financing in order to unlock our manufacturing line and ship our first units – but have been unable to do this."
Lily said that customers would be offered refunds over the next 60 days.
Lily is not the first crowd-funded drone startup to fall and the contrast between success and failure in the camera drone market is stark.
Only last week at CES consumer show in Las Vegas, one of the largest camera drone suppliers, DJI of China, demonstrated its strength in the market with a high-profile launch of  a limited edition Phantom 4 drone.
The company's position in the market means it can now also introduce more accessory products, such as a daylight viewable monitor, to support its core camera drone products.
"DJI has developed some of the world's best aerial platforms and camera technology and now, we bring to our customers a new range of product extensions and accessories to further expand their creative possibilities," said Paul Pan, DJI's lead engineer.
Another successful drone is the Hover Camera Passport developed by Zero Zero Robotics. It sells for $599.
Beijing-based Zero Zero Robotics is also extending the capabilities of the basic drone and it has added face-recognition capabilities to its drone cameras.
In the last 12 months Intel has bought a drone manufacturer Ascending Technologies and invested in Chinese drone-maker Yuneec.
[ad_2]

Source link