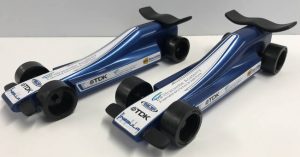 "TDK-Lambda is committed to supporting STEM [science, technology, engineering and mathematics] education. We believe it is vital to address the looming skills gap and our engineers are engaged in a range of activities with local schools in North Devon to foster early enthusiasm and interest in young students," said TDK-Lambda production manager Tim Puttick. "We aim to give them an insight into the opportunities that are open to them if they study STEM subjects and support them in developing the necessary skills to pursue these interests."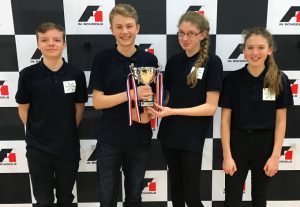 Spanning 9 to 19-year-olds, the main ojective of F1 in Schools is to help young people develop informed views about careers in engineering, driven by the appeal of Formula One.
Teams of three to six students, according to TDK-Lambda, use CAD/CAM software to collaborate, design, analyse, manufacture, test, and then race miniature compressed air powered balsa wood F1 cars.
In addition to the engineering elements, each team must also raise sponsorship and manage budgets to fund research, travel and accommodation, as well as create a design portfolio and present their project to judges.
TDK-Lambda provided support and mentoring to Year-9 team Nebula.
Engineer Stephen Smith and milling machine operator Dave Maskrey shared their knowledge, helping the team to develop its 3D concept design and build two competition cars.
Under design technology teacher Steve Cronin, Nebula competed for the first time at the South West Regional finals in South Devon this month, winning the Entry Class.
"Nebula was outstanding," said Cronin. "This simply wouldn't have been possible without the time and support of TDK-Lambda and its engineers. The team is already planning on how to improve upon its design and enter the next class in next year's competition."
TDK-Lambda UK has designed and manufactured power supplies in Ilfracombe for 50 years.