[ad_1]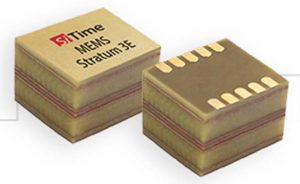 The devices are based on 100ppb parts released two years ago and, despite now including an oven, measure 7 x 9 x 6.5mm.
The firm is aiming frequency provision in 5G infrastructure, where many mini-basestations will be spread across the landscape, in less-protected locations compared with 3G or 4G basestions – on lamp posts, for example, which will be exposed to more vibration and thermal variation.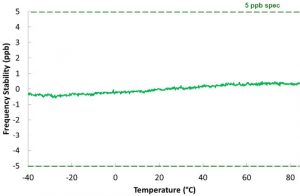 "We can achieve ±50ppt/°C typical frequency slope, which is 10x better than any quartz OCXO we have seen," SiTime v-p of marketing Piyush Sevalia told Electronics Weekly. "Vibration resistance is ±0.1ppb/g, 10-20 times better than and quartz we have seen."
With this level of temperature protection, according to Sevalia, the oscillator can be placed almost anywhere on a PCB, and there is no need to add airflow deflectors – fans turning on and off have been known to modulate the frequency output of telecoms OCXOs, he said, adding that the devices temperature performance comes down to an insulated oven as well as compensation.  Allan deviation is 2e-11 under airflow
Vibration resistance comes down to the minuscule mass of the silicon resonator. "The amount of energy that couples in is small,"said Sevalia.
Adding the oven has increased power consumption, to 650mA compared with 40mA through the earlier 100ppb non-oven part, which is also smaller at 5 x 3.2mm.
An internal phase-locked loop means output frequency is variable and can be programmed across 1-60MHz or 60-220MHz depending on variant.
Operation is across -40 to +85°C, with -40 to +95°C and -40 to +105°C versions in the pipeline.
On-board regulation of the power supply increases rejection of rail-based influences, and removes the need for external ferrite, to a figure not released at the time of writing. "We expect to be very good, since we use the same circuit architectures and technologies as past platforms," said Sevalia.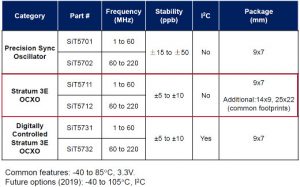 Output options are LVCMOS or clipped sine-wave.
Versions for telecoms will be available meeting Stratum 3E specs, which include:
20-year free running accuracy of +/-4.6 ppm
24 hour holdover of ±10ppb inclusive of temperature effects
1 ppb/day (in ±5°C) recommendation
The technology behind the ovened oscillators has been branded 'Emerald Platform'.
Emerald samples are available now for qualified customers, with production quantities scheduled to available in Q2 2019.
[ad_2]

Source link