[ad_1]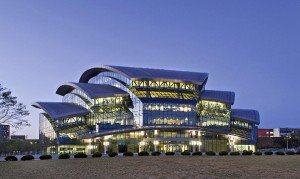 "The largest memory supplier, Samsung Electronics, gained the most market share and took the No. 1 position from Intel," says Gartner's Andrew Norwood
It ends a 24 year reign as No.1 for Intel –  second only to tI which was No.1 for 25 successive years between 1959 and 1984.
"Memory accounted for more than two-thirds of all semiconductor revenue growth in 2017, and became the largest semiconductor category, adds Norwood.
The memory marketgrew 64% and accounted for 31%  of the total semiconductor market.
For the first time the market topped$400 billion coming in at $419.7 billion – a 22.2% increase from 2016.
The key driver behind the booming memory revenue was higher prices due to a supply shortage. NAND flash prices increased year over year for the first time ever, up 17%, while DRAM prices rose 44%.
Equipment companies could not absorb these price increases so passed them onto consumers, making everything from PCs to smartphones more expensive in 2017.
Other major memory vendors, including Hynix and Micron Technology, also performed strongly in 2017 and rose in the rankings.
2017 Top Ten IC Vendors
Samsung
61,215
Intel
57,712
Hynix
26,309
Micron
23,062
Qualcomm
17,063
Broadcom
15,490
TI
13,806
Toshiba
12,813
Western Digital
9,181
NXP
8,651
Others
174,418
Total Market
419,720
Intel grew its revenue 6.7% in 2017, driven by 6% growth in data center processor revenue due to demand from cloud and communications service providers.
Intel's PC processor revenue grew more slowly at 1.9%, but average PC prices are on the rise again after years of decline following the market's shift from traditional desktops toward two-in-one and ultramobile devices.
The current rankings may not last long.  "Memory pricing will weaken in 2018, initially for NAND flash and then DRAM in 2019 as China increases its memory production capacity," says Norwood, "we then expect Samsung to lose a lot of the revenue gains it has made."
2017 was a relatively quiet year for mergers and acquisitions. Qualcomm's acquisition of NXP was one big deal that was expected to close in 2017, but did not. Qualcomm still plans to complete the deal in 2018, but this has now been complicated by Broadcom's attempted takeover of Qualcomm.
"The combined revenues of Broadcom, Qualcomm and NXP were $41.2 billion in 2017 — a total beaten only by Samsung and Intel," says  Norwood, "if Broadcom can finalize this double acquisition and Samsung's memory revenue falls as forecast, then Samsung could slip to third place during the next memory downturn in 2019."
[ad_2]

Source link