[ad_1]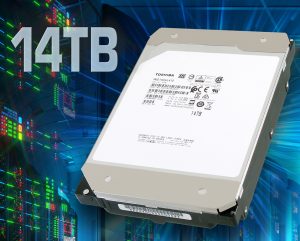 Using a 9-disk, helium-sealed design, the  MG07ACA Series provides the power-efficient capacity and storage density needed by cloud-scale and enterprise storage solution providers to achieve their TCO objectives.
"We have raised the bar with the new MG07ACA Series 9-disk helium-sealed design," says Toshiba's  Akitoshi Iwata.
The MG07ACA Series features both 14TB 9-disk and 12TB 8-disk models. The helium-sealed 3.5-inch[3] mechanical design realises better storage density and a lower HDD operating power profile than the previous MG06ACA Series for optimal TCO in cloud-scale infrastructures.
The MG07 Series also utilises Toshiba Group's laser welding technology to ensure the helium remains securely sealed inside the drive enclosure. The drives support a SATA 6Gbit/s interface and 7,200rpm access performance.
The 9-disk 14TB models achieve a 40% increase in maximum capacity over previous MG06ACA 10TB models. Additionally, the 14TB models improve power efficiency by over 50% (W/GB)l
"
[ad_2]

Source link