[ad_1]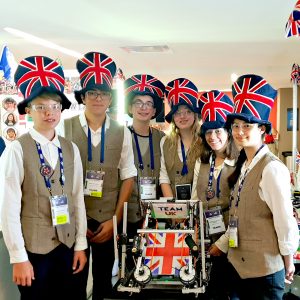 Specifically, an alliance of three nations featuring the UK team came third for the FIRST Global Finalist Alliances Award. The three nations in combo were: United Kingdom, Georgia and Qatar.
The UK team comprised six high school students selected by FIRST Tech Challenge UK & Ireland, and the event – featuring teams from 165 nations – was held at the Arena Ciudad de Mexico in Mexico City.
Team UK's Omar Ben-Gacem, Patrick Jordan, Ashleigh Rudesill, Zarina Choudhari-Stewart, Mackensie Kim and Dom Alberts showed their engineering skills by designing and programming their own robot, using a standard kit used by all teams, to carry out a series of challenges in the finals.
Collaboration
Collectively, the nations worked together on the challenges set by the organisers with the aim of outscoring their rival alliances in the various rounds.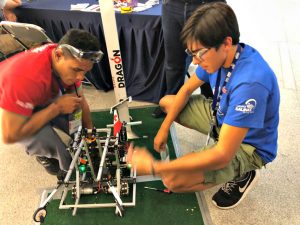 The event was organised by FIRST Global Challenge, a not-for-profit organization founded to promote science and technology leadership and innovation in young people
"The goal that we set Team UK was a finish in the top quarter of all participating teams. The team exceeded all our expectations in coming third," said Muktar Ali, chief operating officer of FIRST Tech Challenge UK & Ireland.

"To us, it wasn't just about how they performed, there was greater emphasis on them meeting other students from around the world, enjoying the opportunity to make friends, learn about collaboration and to take away memories that will live with them forever. There are few occasions where so many people from across the world are present at a single event to achieve this."
Overall, and individually, the three top ranking teams were from Romania, then United States of America and Singapore.
Grand Challenges
The tournament aims to draw on 14 Grand Challenges of Engineering identified by National Academies of Engineering and this year the emphasis was on 'energy impact'.
"I've learned through FIRST that if we teach the world's young people the common language of STEM, they'll learn how to work together across cultural and religious differences, " said FIRST Global founder and STEM advocate Dean Kamen.

"Through the excitement of an Olympic-style sporting event, the FIRST Global Challenge is uniting students around the world to solve the greatest problems we face as a global community."
FIRST Tech Challenge UK & Ireland is a charity that describes itself as on "a mission to transform young people's relationship with Science, Technology, Engineering, and Maths (STEM) through mentor-based robotics educational programmes".
Congrats to the UK team!
Image top: Team UK students in Mexico (l-r): Patrick Jordan, Omar Ben-Gacem, Dom Alberts, Ashleigh Rudesill, Zarina Choudhari-Stewart and Mackensie Kim.
Image below: Team UK's Omar Ben-Gacem (right) assisting Team Tonga with a robot repair.
[ad_2]

Source link