[ad_1]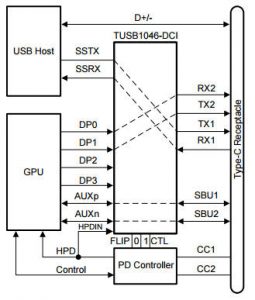 TUSB1046-DCI, for example, is a VESA USB Type-C Alt Mode re-driving switch supporting USB 3.1 data rates up to 10Gbit/s and DisplayPort 1.4 up to 8.1Gbit/s for downstream facing port (Host).
10Gbit/s is 'SuperSpeedPlus', compared with 5Gbit/s 'SuperSpeed'.
The device is used for configurations C, D, E, and F from the VESA DisplayPort Alt Mode on USB Type-C Standard Version 1.1.
"This protocol-agnostic linear re-driver is also capable of supporting other USB Type-C Alt Mode interfaces," said TI. "The TUSB1046-DCI provides several levels of receive linear equalisation to compensate for cable and board trace loss due to inter-symbol interference."
TUSB1002 is a simpler dual channel 10GHz re-driver.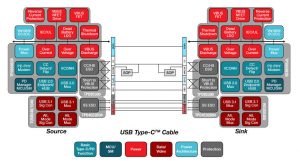 The firm has also introduced a eight-channel USB Type-C voltage protection chip called TPD8S300  that provides 20V short-to-Vbus over-voltage and IEC ESD protection.
"Since the release of the USB Type-C connector, many products and accessories for USB Type-C have been released which do not meet the USB Type-C specification. One example of this is USB Type-C Power Delivery adaptors that only place 20V on the Vbus line," said the firm. "Another concern for USB Type-C is the mechanical sliding of the connector shorting pins, due to the close proximity they have in this small connector. This can cause 20V Vbus to be shorted to
the CC and SBU pins. Also, there is a heightened concern that debris and moisture will
cause the shorts."
Lastly there is the TPS65983B USB PD 3.0 power controller that integrates the appropriate power path and provides over-current, over-voltage, reverse current and thermal protection. "The controller features fast role swap for sink or source implementations to give designers maximum flexibility," said TI.
TUSB1002, TUSB1046 and TPS65983B are in production, TPD8S300 (and six-channel TPD6S300) are sampling, and there are evaluation kits available for all five chips.
All devices support USB Type-C, USB 3.1 Gen 2 and PD 3.0, and the firm has a USB Type-C product web page to go with the parts.
| | | |
| --- | --- | --- |
| Product | Package | Evaluation |
| TUSB1002 | 24VQFN | TUSB1002EVM |
| TUSB1046 | 40WQFN | TUSB1046EVM |
| TPS65983B | 96BGA | TPS65983EVM |
| TPD8S300 | 20WQFN | TPD8S300EVM |
| TPD6S300 | 20WQFN | TPD8S300EVM |
[ad_2]

Source link