[ad_1]

NI says its latest release of the InstrumentStudio software for PXI modular instruments improves system interactivity and makes debugging while running tests more intuitive.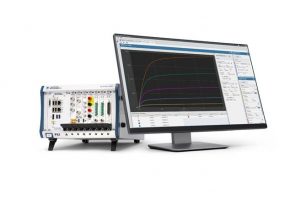 InstrumentStudio can now create a multi-instrument environment, so engineers can capture screenshots and measurement results in one view from their suite of instruments. 
Also it is possible to save project-level configurations for specific devices under test that can be repurposed later or shared with colleagues.  
Test measurement correlation between different hardware is also addressed, says NI, by exporting configuration files to programming environments that reproduce settings, thereby simplifying measurement correlation. 
It is also possible to monitor PXI instrument behaviour by running InstrumentStudio while test sequences execute in parallel, streamlining the debug process.  
Luke Schreier, vice president of product marketing at NI, believes this new software will simplify the use of PXI instruments.
"From initial product discovery to system debugging, all with intuitive connections to programming environments and test sequencers," said Schreier.
[ad_2]

Source link