[ad_1]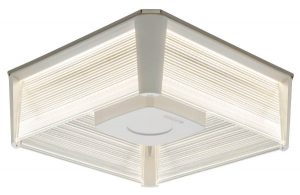 The light use waveguides to spread where it is wanted, which Cree brands WaveMax.
for low glare, little light is emitted outside +/-50 downwards – see the data sheet.
"Parking structure operators are under constant pressure to lower operating costs while providing safe and visually appealing lighting," said Cree general manager David Elien. "IG luminaires out-perform existing LED and metal halide solutions, and offer a lower total cost of ownership."
0-10V dimming is included in lights that do not include a factory-installed.
3,000K adds to existing  4,000 and 5,700K options.
Across the range, there are 120-277V or 347V (50/60Hz) input options – both available in 33 and 66W versions (equating to 3,430 and 6,930 lm respectively in the 3,000K version. Efficacy is up to 118 lm/W in 4,000 and 5,700K versions.
[ad_2]

Source link